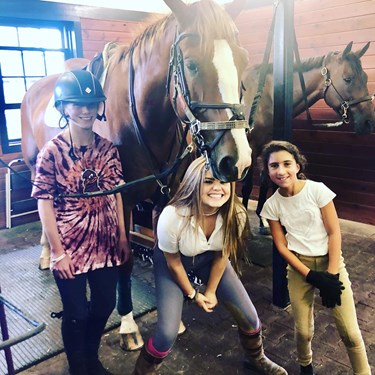 Beverly Junior Riding Program Session 8: August 10, 2021

8/10/2021 − 8/13/2021
eWaiver Link(s)

Organizer:

Darrin Mollett

darrin@beverlyequestrian.com

3103399296
The 4-day program consists of two private lessons on Tuesdays and Thursdays and two group lessons on Wednesdays and Fridays. $650 per week.
The 2-day program consists of two group lessons on Wednesdays and Fridays. Minimum of 2 riders required per group. Add additional private lessons as desired. $400 per week.
Group lessons are over a two to three-hour block starting at 1pm and concluding at 3 or 3:30pm. Private lessons are 45-minutes scheduled on the hour starting at 1pm each day.
1st Group: No riding experience necessary! Groups: All riders will arrive at 1pm to groom and prepare the horses for the first group, Beginner Novice Riders. The second group will help the first Beginner Novice Riders group learn to groom and prepare the horses for their lesson, all under supervision of Beverly grooms and staff. The Beginner Novice Riders will lesson while the second group helps.
2nd Group: Novice Riders. Novice Riders should be comfortable walking and trotting in a group. Novice riders will lesson while the Beginner Novice Riders watch and/or participates in horsemanship and other educational activities.
Facilities:
Beverly Equestrian's excellent training facilities allow riders the pleasure of riding in a large and well-lit 100 x 200 foot indoor arena, against the backdrop of the scenic countryside of The Plains, Virginia. The safely-enclosed arena features state-of-the-art dust-free footing.
Beverly Equestrian is conveniently located (within a 10 minute drive) to the historic towns of Middleburg, and The Plains. Parents, guardians, or family members who drop off riders for the riding program may spend a couple of hours enjoying boutiques, antique shops, restaurants, or take a leisurely stroll in the nearby towns.
Equipment:
Riding program participants are required to wear the following, to participate in the riding program:
• Long pants (jeans or riding pants preferable, no shorts)
• Hard-soled shoes or boots with a minimum one-inch heel. No sneakers or flat-soled, open-toed shoes allowed. (For safety reasons, riders without required footwear will not be permitted to ride, or handle horses during the program.)
• An ASTM/SEI-certified riding helmet (helmets may be purchased at local saddlery, such as Tri-County Feeds, Dover Saddler, or Saddlery Liquidators). Bike helmets are not permitted, as they do not provide the protection required when horseback riding. (Note: riders in the riding program are required to wear helmets when riding.
• In case of absence, riders may make up on another date within the same month. If the day is not rescheduled within the same month, the rider forfeits the riding program fee.
• A $100 non-refundable deposit is required at time of enrollment for the two-day program. A $150 non-refundable deposit is required at time of enrollment for the four-day program. Remaining payment is due no later than one week prior to the first day of the riding program for which the rider is enrolled.
• Riders are not confirmed enrollment in the riding program until the waiver form and deposit are received by Beverly Equestrian. Beverly Equestrian will confirm enrollment via email. No refunds or credits after a rider's enrollment is confirmed.
To ensure the safety of riders and the efficiently of the riding program, riders must be dropped off and picked up promptly at the start and completion of the riding program. There will be a late fee of $15.00 per half hour for late pickups, regardless of the reason. Parents or guardians are not allowed to deposit minor children (under the age of 18 years old) without a Beverly Equestrian riding program staff member present. All parents or guests who wish to stay and watch riders participating in the program must sign a waiver upon arrival on the property.

Organizer Notes
Payment in full required to guarantee your spot in the clinic. No refunds unless your spot can be filled from the waitlist, and then, subject to a $50 office fee. Changes in dates or times is also subject to a $50 office fee.
2 Day Clinic
Instructor: Beverly
$400.00
Deposit to Hold Spot

$100.00
4 Day Clinic
Instructor: Beverly
$650.00
Deposit to Hold Spot

$150.00
Tests/Experience
2 Day Clinic Levels
Beginner Novice
Novice
4 Day Clinic Levels
Beginner Novice
Novice
Administrative Information
Ride Time:

Ride times will be emailed the day before the clinic.

Trailer Direction:

The entrance to the farm is from Zulla Road, at approximately 3515 Zulla Road. After turning on Beverly Lane, follow the drive to the right through the stone pillars up to the indoor. Please park along the driveway or in the courtyard. Please note that there is no entrance from Milestone.

Change Policy:

Changes are not permitted.

Refund Policy:

No refunds.

Entry Option(s) Secure Spot: Pay in full via STRIDER Pay Deposit via STRIDER and the remainder by check