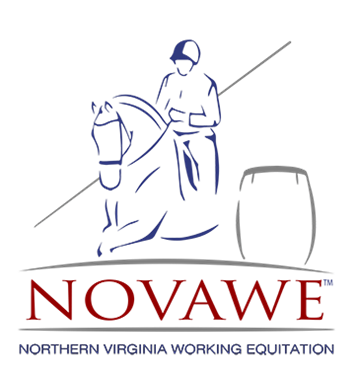 NOVAWE Working Equitation Schooling Show #1

5/22/2021
Organizer:

Biddie Lowry

novawe.blowry@gmail.com

Ready to participate in an all-day WE Schooling Show in Frying Pan's spacious indoor? This relaxed and friendly show is a great learning opportunity and/or practice for rated shows. NOVAWE will have three schooling shows this year. Scores from this schooling show go towards NOVAWE Year End Awards.
Judge - Jill B. Malone, USAWE Licensed "r" judge, VA
Please select the class that you want to enter and select the $10 non-refundable OFFICE FEE. If you are interested in the stabling or shavings options, choose those selections as well.
If you are not a member of the organization, NOVAWE, there is an additional $10 fee for your class.
If you see "WAITLIST", then that means that all of the allocated slots for that class have been taken. Please email me at novawe.blowry@gmail.com to be put on the Wait List.
Complete details are found in the Prize List. Please download and read. UPDATE: Only Levels 1 & 2 will be offered at this show.
Additional information on Stabling:
Available for one or two days. Stalls are 10 x 12 with rubber mats. Order shavings below or bring your own. Stall cleaning fee is included in your stabling fee and stalls will be cleaned by FPFP upon departure.
Please use all necessary Covid-19 precautions by wearing a mask around others and maintain social distancing.

Organizer Notes
This event is organized by Northern Virginia Working Equitation (NOVAWE)
-Liability Releases for both NOVAWE and for Frying Pan Farm Park must be printed, signed, and brought to the event.
-Email current Coggins (within one year) to novawe.blowry@gmail.com.
-All out of state horse(s) are required to present a Certificate of Health & copy of Coggins at check in table before unloading your horse(s).
-All Intros will ride Dressage test first, starting at 8 am.
MEDIA RELEASE: By entering a Northern Virginia Working Equitation (NOVAWE) sponsored event, I agree that as a condition of and in consideration of acceptance of entry, NOVAWE may use or assign photographs, videos, audios, cablecasts, or other likenesses of me and my horse taken during the course of the event for the promotion, coverage, or benefit of the event or NOVAWE. Those likenesses shall not be used to advertise a product and they may not be used in such a way as to jeopardize amateur status. I hereby expressly and irrevocably waive and release any rights in connection with such use, including any claim to compensation, invasion of privacy, right of publicity, or to misappropriation.
Level 1 Intro: Dressage & EOH
$65.00
Level 2 Novice A: Dressage, EOH, & Speed
$85.00
**OFFICE FEE (non refundable & required)
$10.00
Stabling for Saturday only
$35.00
Stabling for Friday & Saturday
$55.00
Order Shavings - 1 bag
$9.00
Order Shavings - 2 bags
$18.00
Order Shavings - 3 bags
$27.00
Non-Member of NOVAWE Fee, please add
$10.00
Administrative Information
Ride Time:

Approximate Dressage Ride Times will be emailed to participants on Thursday, May 19, 2021. These ride times will also be posted on the Facebook page, Northern Virginia Working Equitation.

"Order of Go" for the EOH and Speed classes will be the same order as the Dressage classes.

Trailer Direction: Follow GPS to FPFP. Do not go to the visitors center.
Once you turn into the Farm, the indoor and Barn 1 will be directly in front of you. You will veer to the left and drive down into a parking lot for trailers.

If you are stabling on site, you may stop by Barn 1, check in, and unload your stuff before parking your trailer in the parking lot. (Check-in will be inside the indoor.)

Change Policy:

Changes are permitted up to 14 day(s) before registration closes.

Refund Policy:

Refunds are permitted before registration closes.

Entry Option(s) Secure Spot: Pay in full via STRIDER