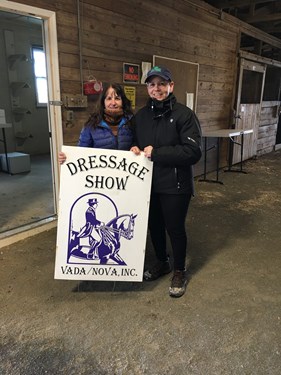 2020 Membership - Northern Virginia Chapter of the Virginia Dressage Association (VADA/Nova)

11/1/2019 − 12/1/2020
Organizer:

Anne Harrington

anne.m.harrington@gmail.com

703-352-5944
To submit your membership form, please fill out the membership form and upload it into your registration.
VADA/Nova (www.vadanova.org) is the Northern Virginia Chapter of the Virginia Dressage Association (VADA), a Group Member Organization (GMO) under our national membership organization the U.S. Dressage Federation (USDF). The USDF is an International Discipline Association dedicated to dressage under the U.S. Equestrian Federation (USEF) which serves as the National Governing Body for Equestrian Sport.
VADA/Nova holds USEF/USDF licensed/recognized shows; schooling shows; both mounted and unmounted clinics as well as other activities focused on the interests of our members. Please check our website for information and registration forms.
VADA/Nova is dedicated to education, recognition of achievement, and promotion of dressage in Northern Virginia. We are a 501(c) 3 organization.
The membership year runs from December 1 through November 30. New memberships processed in November will be valid for the following year.
As with many organizations, we are moving many of our member interactions to electronic formats. We realize that may cause some inconvenience to a segment of our members, but our newsletter, voting issues, and other updates will now be available only electronically unless otherwise requested.
Being a member of VADA/NOVA has many benefits:
- We are the largest Chapter of the Virginia Dressage Association (VADA), a GMO under the USDF
- We typically hold four-five licensed shows each year ( see our Calendar), several schooling shows, as well as clinics and educational opportunities
- We partner with a number of local schooling show organizers and scores from those competitions count toward VADA/Nova's Schooling Show Championship qualification and year end awards. 2020 partners include Compass Rose, Mitchell Dressage, Homestead Farm, and Spencer Sporthorse.
Benefits of Membership include:
 Discounted Entry Fees to VADA/Nova managed Schooling Shows
 Priority on entering VADA/Nova managed Schooling Shows
 Participation in the VADA/Nova Year End Awards Program
 "Piaffe and Passage" the VADA/Nova Newsletter published throughout the year
 The Greenbook that is the VADA/Nova omnibus providing our calendar, as well as member information regarding volunteering, competing, and awards
 VADA Membership including the Purple Book which provides the VADA omnibus covering the Virginia Dressage Association events
 USDF Group Membership
 Representation at State, Regional, and National Levels
 Participation in clinics and educational opportunities
 Participation in Partner Schooling Shows Series

We encourage everyone who joins VADA/Nova or renews membership on Event Clinics to set up their own Rider account. You will be able to upload required documents, such as your Coggins, and any Juniors or Young Riders can provide their dates of birth for eligibility in those categories.
Organizer Notes
Additional information:
Q: Can I use my VADA/Nova Volunteer Bucks for My Membership Dues?
A: One of the benefits of being a VADA/Nova member is the opportunity to volunteer. Not only do you learn a lot about what it takes to organize equestrian events, you also earn Volunteer Bucks, which can be applied toward your membership or used as cash with a number of our sponsors. If you plan to use you Volunteer Bucks for your membership dues, please send them with your printed membership application to: Anne Harrington, 10411 Breckinridge Ln, Fairfax, VA 22030.
Q: How does USDF know I am a member so I get credit for competing in a licensed show?
A: If are NOT a USDF Participating Member and you plan to compete in an upcoming Licensed Show and need a USDF GMO membership, please submit your form by the end of the month preceding the competition so VADA/Nova can include you in its monthly update to USDF. It can take several weeks or more for USDF to process the new names.
Individual - Adult Amateur
$55.00
Individual - Jr/YR
$55.00
+ Family Member - Adult Amateur
$25.00
+ Family Member - Open
$25.00
+ Family Member - Jr/YR
$25.00
Administrative Information
Trailer Direction: Please also visit the VADA/Nova Website - www.vadanova.org - for additional information on the organization, the events calendar, and other news. We have a great calendar of activities for 2020. In addition to our licensed and schooling shows, we will hold our Judges Forum in March, will have an unmounted clinic with a nationally-known sports psychologist, and are planning an adult dressage camp.
Change Policy:

Changes are not permitted.

Refund Policy:

No refunds.

Entry Option(s) Secure Spot: Pay in full via STRIDER