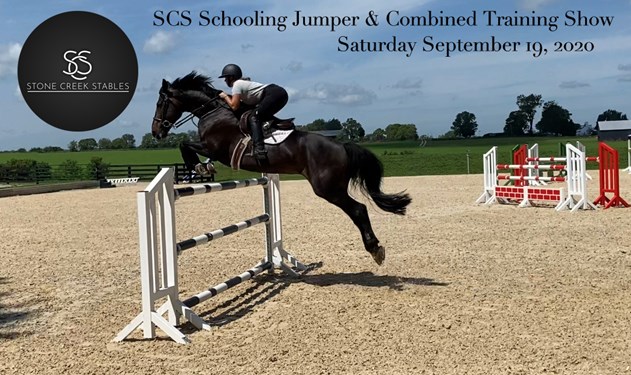 Stone Creek Stables September 19, 2020 Schooling Show

9/19/2020
Organizer:

Nicole Loochtan

Nicoleloochtan36@gmail.com

847-504-6227

THIS LIABILITY RELEASE MUST BE SIGNED DIGITALLY BEFORE ENTERING https://bit.ly/35rD9GS
Stone Creek Stables is offering a fun day of schooling for at our beautiful facility in Georgetown, Kentucky - located just a few miles from the Kentucky Horse Park. Choose to school over our show jumping course, or school our combined training course which takes riders directly from show jumping out to our XC course. Stadium rounds will be set from 2'3" to 4' in height and our XC course has questions ranging from Beginner Novice to Training (with a few Prelim questions).
All entries, releases and payments must be done online, and please select the total number of rounds at each height you will be riding for the day. The 2'3" division will start at 9am sharp and we will aim to have each successive division will start the next hour. Please scroll through all the choices and select either SJ or CT according to which course you'd like to ride.
There may be some time delays due to the number of entries in each division and we will need to reset the course and drag. We will post a better estimate of division times on our FB page @stonecreekstables. Please bring your own snacks, water for you and your horse and masks to comply with Covid safety! We can't wait to see you.
Organizer Notes
The 2'3" division will start at 9am. Will will aim for each successive division to start on the next hour but start times of other divisions may vary be number of entries, need to set fences and drag the ring.
LIABILITY RELEASE MUST BE COMPLETED ONLINE THROUGH THIS LINK https://bit.ly/35rD9GS
If you have issues, please print off the PDF, sign and bring to show.
Note that Strider charges a 5% processing fee for entries. Payment is processed through Paypal.
CT TRAIN 3' - 3'3"
$60.00
Administrative Information
Ride Time: Show information will be located on our website https://www.stonecreekstables.com/
Division times will be located on our FB page https://www.facebook.com/StoneCreekStables
Please check back the night before the show for any adjustment to division start times!

Trailer Direction:

Parking is free and will be on the right as you pull into SCS.

Change Policy:

Changes are permitted before registration closes.

Refund Policy:

Refunds are permitted before registration closes.

Entry Option(s) Secure Spot: Pay in full via STRIDER