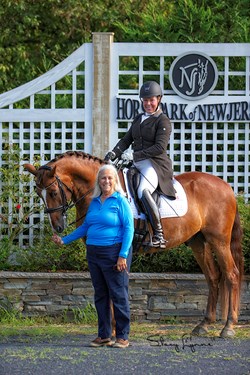 Linda Zang & Boy DeWinter Musical Freestyle Auditing Symposium September 25th & 26th at Upper Creek Farm

9/25/2021 − 9/26/2021
Organizer:

Kim Herslow

kimtini@me.com

732-259-0412
This is an Auditing Clinic - A Unique Freestyle Symposium and Clinic Experience!
Saturday, September 25th – Auditors will come learn the process of building a Freestyle Dressage Test and choreographing the movements to music. Learn the process through the eyes of top international riders, a world renowned judge and a professional composer.
Kim Herslow Dressage welcomes world renowned judge, Linda Zang, and international composer, Boy DeWinter of Music & Motions, to Upper Creek Farm for a weekend of exceptional dressage education. This clinic is for auditors of all riding levels and disciplines who are interested in learning the process of producing a freestyle dressage test, including the choreography and music composition.
Full details, sign-up and PAYMENT THROUGH PAYPAL are located at https://bit.ly/3DwAv1m
About Our Clinic Instructors and Facilitators
Linda Zang is an International competitor, world renowned clinician, FEI judge and technical delegate. She has been one of the most highly respected FEI judges since 1995, having officiated the 1998 Olympics and eight World Cup Finals. She has been a leading proponent of US Dressage in international circles, and has been a leader of national and world wide organizations.
Linda is a regular clinician at Upper Creek Farm, working with Kim and her clients teaching the principles that balanced riders produce balanced horses.
Boy de Winter, hails from Holland, where his company serves international dressage competitors. As a child, Boy was musically talented, taking piano and recorder lessons. He was involved in his parent's business, Top Hatters, which took him on the road to dressage competitions, where he watched thousands of musical freestyles. https://music-motions.com/
In 2014, Boy founded his company, Music in Motion, and has produced music for competitions with the Japanese Dressage Team, National and International Competitions, World Cup Finals, and European Championships.
Kim Herslow, owner of Upper Creek Farm, is an FEI level rider, who has ridden for the USA at 2015 Pan Am Games in Toronto as well as 2 Nations Cups in 2013 and 2015 along with Olivia LaGoy-Weltz, Allison Brock, Steffen Peters and Laura Graves. She is a dedicated competitor and trainer who believes that classical dressage training helps to maintain soundness through proper balance and suppleness.

Full details, sign-up and PAYMENT THROUGH PAYPAL are located at https://bit.ly/3DwAv1m
Organizer Notes
This is a unique auditing experience on how to create the musical freestyle. There will be demonstrations on the steps to choreograph the test with Kim Herslow/Linda Zang and how to mix and produce the music by Boy de Winter.
1 Day Clinic
Instructor: Linda Zang
$100.00
2 Day Clinic
Instructor: Linda Zang
$50.00
Administrative Information
Ride Time: There are no ride times. Auditors should arrive by 9am at latest.
Link to clinic details and payment are located at https://bit.ly/3DwAv1m
Change Policy:

Changes are permitted before registration closes.

Refund Policy:

No refunds.

Entry Option(s) Reserve Spot Via STRIDER, Mail Check