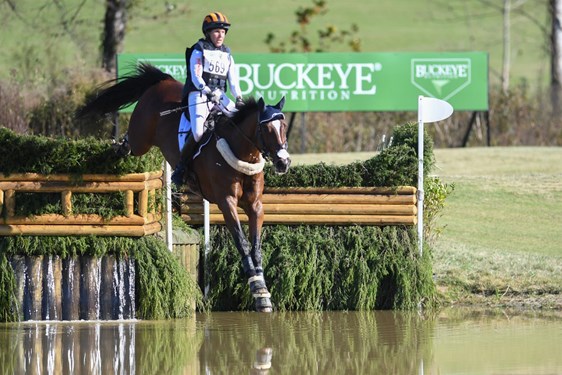 Clinic with Liz Halliday-Sharp

1/23/2021 − 1/24/2021
Organizer:

Liz Halliday-Sharp

info@hseventing.com

Liz Halliday-Sharp is excited to host the second clinic at her new Kentucky base, Blue Fox Farm, on January 23/24, 2021!
*In 2020, Liz lead the world in # of FEI wins at 9 and was the USEA Leading Rider and Lady Rider!*
About Liz:
For the past twenty years, Liz split her time between the UK and USA which helped her to create a successful business producing and selling horses, as well as providing an opportunity to compete and train in both Europe and America. Now she is lucky to be based full-time in the United States, with two equestrian bases in the USA: Blue Fox Farm in Lexington, Kentucky, and Horsepower Equestrian in Ocala, Florida.
Over the last few years, Liz has enjoyed wins and top results up to the CCI5* level of Eventing competition across both continents. Those results have helped her to become an established member of the US Equestrian Eventing High Performance Training List for many years. She has also appeared on multiple Nation's Cup Teams and was the reserve for Team USA at both the 2018 World Equestrian Games and 2019 Pan American Games. With a strong team of horses in the barn, Liz now has her sights set fully on the Olympic Games in Tokyo for 2021 and beyond.
Clinic format will be:
Day 1 and 2: Jumping in the indoor with Liz. Various exercises will be set up both days to accommodate all levels and offer variety and both Show Jumping and Cross Country questions.
There will be 7 groups of 5 horses starting at 8:00 AM. Each group will rider for approx. 1.5 hours.
All lessons will take place in the indoor so both lighting and weather will not be a factor.
THERE WILL BE NO STABLING OFFERED! Please refer to this link if you need stabling. https://www.thehorselodge.com You are responsible for finding your own stabling.
Organizer Notes
There will be no refunds provided unless we are able to fill your spot off the waitlist. No changes other than late scratches will be permitted in the week prior to the clinic.
2 Day Clinic
Instructor: Liz Halliday-Sharp
$300.00
Tests/Experience
2 Day Clinic Levels
Elementary
Beginner Novice
Novice
Training
Modified
Preliminary
Intermediate
Advanced
Administrative Information
Ride Time:

Times will be emailed on Monday, January 18th.

Trailer Direction:

When you arrive, please park on the edge of the lane to the barn if you are driving a larger trailer. Smaller trailers can park in the parking lot as long as there is room for people to turn around.

The barn is closed so please access the indoor through the back doors. Auditors can enter through there as well as there are stairs that lead to the seating area. Also, there will be a spicket near the back of the barn with a hose attached for any water needs. Please bring buckets. There will be no hose bathing as to not leave puddles in the road. The barn is closed so if you have multiple horses, please come prepared to have them wait on the trailer.

Change Policy:

Changes are not permitted.

Refund Policy:

No refunds.

Entry Option(s) Secure Spot: Pay in full via STRIDER