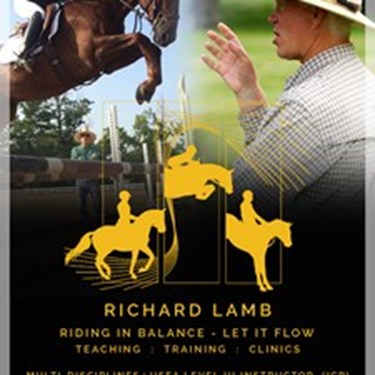 RIDING IN BALANCE CLINIC with RICHARD LAMB - Learn how the Quality of your Flatwork makes all the Difference over Fences.
11/9/2019 − 11/10/2019

Open: 8/5/2019

Close: 11/4/2019
Organizer: Denise Maillie
Two day clinic: November 9 & 10, 2019
Farm location: 281 Mt Eden Rd, Kirkwood, PA 17536
This clinic will help you discover how good flatwork is the basis for good jumping in the ring or out on XC. Richard has coached/trained many riders and horses at the beginning of their careers as well as those competing 5* levels of Eventing and show jumping at 1.40+ m. He is a certified USEA Level III Instructor and has been named a National Instruction Legend by the United States Pony Club. He has also been certified, with distinction, as an ICP YEH Trainer. (So, bring those green horses.) In 2014, Richard coached the USPC Pony Jumper Team to win both the Team and Individual Gold Medals at the USEF National Pony Jumper Championships. And, in 2018, he coached the Individual Bronze Medalist. He has been designing the courses for the USPC Show Jumping Championships since 1987. At the other end of his range, Richard helped develop and organize the equestrian venues and competitions for the 1996 Olympic Games in Atlanta and was the equestrian coach for the 2012 US Olympic Pentathlon team.
Richard has the ability to recognize how each rider/horse learns and, then, tailor his instructions just for them. And, he does so in a very relaxed and inviting atmosphere for both the rider and the horse.
Sessions will be offered for ALL levels of riders and horses. And, groups will be limited to no more than 5 riders. Private lessons are available, if space allows. Richard recommends riding both days to gain the most information and to confirm changes in the riders and their horses. However, if unable to attend both days, there is a 1-day option available. (Please specify Sat or Sun if riding just one day.) Don't currently have a horse to ride in the clinic? Come audit. It's FREE!
Day 1 (Nov 9) - Flatwork in the morning at the farm
Day 2 (Nov 10) - Jumping exercises, including related lines and course work
*Include Coggins with entry*
Ride times will be emailed the Wednesday evening prior to the clinic.
Visit Richard's website for more information about him, his experience and how he teaches - www.ridinginbalance.com
Organizer Notes
Denise Maillie

dmaillie@yahoo.com
1 Day Clinic
Instructor: Richard Lamb (ICP III)
$115.00
Deposit to Hold Spot

$35.00
2 Day Clinic
Instructor: Richard Lamb (ICP III)
$210.00
Deposit to Hold Spot

$35.00
Late Fee

$20.00

Refund fee

$35.00
Tests/Experience
1 Day Clinic Levels
Introductory
Elementary
Beginner Novice
Novice
Training
Preliminary
2 Day Clinic Levels
Introductory
Elementary
Beginner Novice
Novice
Training
Preliminary
Administrative Information
Ride Time:

Ride times will be emailed the Wednesday evening prior to the clinic.

Change Policy:

Changes are permitted before registration closes.

Refund Policy:

Refunds are permitted up to 2 day(s) before activity begins.

Entry Option(s) Secure Spot: Pay in full via STRIDER Pay Deposit via STRIDER and the remainder by check Reserve Spot Via STRIDER, Mail Check