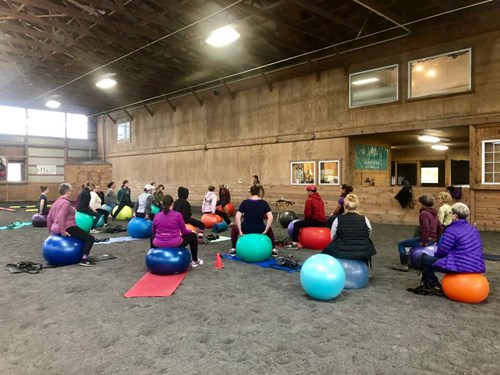 Dressage for Fun At-Home Biomechanics Lesson

1/20/2022
Organizer:

Svetlana Gorski

lanagorski@gmail.com

(561) 601 - 2151
DATE & TIME: January 20th @ 7PM ... see you on ZOOM!
Don't let the winter weather keep you from improving your riding! Join dressage and biomechanics expert Svetlana Gorski for a riding lesson in the comfort of your own home.
During each 45-minute session you will practice the independence of aides, deep breathing while moving in the walk, trot and canter rhythms, as well as leg yields, half passes, flying changes and the elusive half halt. Not only will this class improve the coordination of your seat, it will also help bring awareness to your hands. Your shoulder and hips will be looser, any pain points will be located and released, and your horse will thank you when you get back into the saddle.
Classes are $20 per person. Participants will need an exercise ball to participate.
Want a private Zoom session for you and your barn friends? Email lanagorski@gmail.com to discuss date availability.
Organizer Notes
This at-home clinic is limited to 12 participants. Entries close 5 days prior to the clinic. At this point you own your clinic space. If you cannot attend you are responsible for finding someone to fill your space, and while I will do my best to help, this is the rider's responsibility. If a replacement rider cannot be found, you are responsible for your lesson fee.
Administrative Information
Ride Time:

A Zoom link and password will be sent to participants the morning of the clinic.

Change Policy:

Changes are not permitted.

Refund Policy:

Refunds are permitted before registration closes.

Entry Option(s) Secure Spot: Pay in full via STRIDER