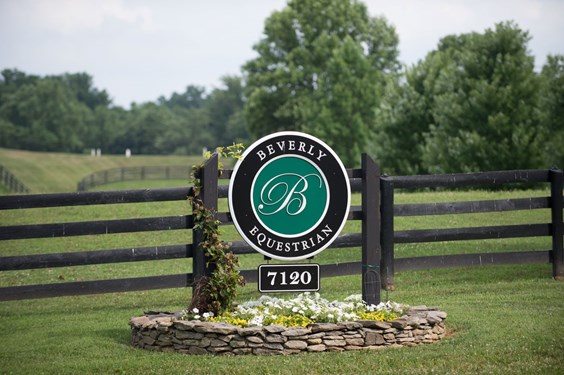 Jumper Schooling Rounds @ Beverly Equestrian

1/21/2023
Late entries allowed until 1/21/2023
eWaiver Link(s)

Organizer:

Show Secretary

info@beverlyequestrian.com

310-339-9296
Beverly Equestrian is pleased to host the 2022 Jumper/Hunter Schooling Rounds, suitable for all levels.
All courses are inviting with show quality fences on all-weather footing. Warm up is also on all weather footing. These schooling shows are held in a low key atmosphere, supportive environment, with amazing prizes, and are lots of fun.
Next 2022 Jumper/Hunter Schooling Rounds at Beverly:
☑️ Saturday, November 17, 2022
☑️ Saturday, December 17, 2022
We offer classes at multiple heights. We start at poles and go up in 3 inch increments. We do build to the height and have a lot of fill, so be sure to enter at the correct level for you and your horse.
NEW FOR 2022: We have spent the winter updating the base and footing in a lower jumper ring. We have also added a small fence for security. We have also purchased a new set of jumper jumps.
These improvements will allow us to run two rings at our schooling jumper rounds.
The Upper ring will be schooling jumpers starting at 2'3' inches.
The jumper ring will be run as previously with two courses offered at each height. You can jump one course, both courses, or jump the same course several times at the same height. Each class is judged by fastest clear.
The Lower ring will have a hunter style course starting at poles. The hunter ring will be judged but will still be unrecognized. There will be two over fences classes and a under saddle class offered at each height. Riders may also enter a division at each height.
Courses will be set outside weather permitting or in our 100 x 200' indoor with dust free footing, lights and heaters. There is an indoor viewing area and covered veranda off of the indoor.
▪️ PRICING ▪️
Due to the new jumps, new ring, and complexity of running two rings, we have increased our class price to $45 per class. Hunter divisions will be $130. We will continue to offer you the same nice footing, show quality fences, ribbons, and friendly competition staff. We hope you understand the need to increase our prices commensurate with our capital improvements.
Each class offers two courses: a black and a white version. You can jump only the white, only the black, both classes or any version that suits you.
Each round is $45; each time you go on the ring it is $45. If you end up jumping different heights, or numbers of classes, you can settle up with the show secretary before leaving.
🔹 We also must ask that any noncompeting horses register as such on our Strider platform and pay the $40 non-compete horse fee. It is important that we have a release and a coggins on file for every horse on the property. Again, we appreciate your understanding as bio security and safety is our top concern.
We are super excited to offer this new opportunity to our loyal and wonderful client base. Thank you so much for being such wonderful friends and supporters.
▪️ PRIZES & AWARDS ▪️
Beverly Equestrian is pleased to announce a partnership with Davis Equine + Ride Safe to provide a year-end award for competitors who ride at their monthly schooling jumper rounds.
Now, in addition to receiving ribbons and prizes, each rider will receive points for their rounds:
1st place = 7 points
2nd place = 5 points
3rd place = 4 points
4th place = 3 points and
5th place = 2 points
Riders can accumulate points for every course they jump. As with placings, the points will be posted on our public Google folder for riders to verify and compare!
Riders are welcome to come to the show secretary to collect their ribbon(s) and a prize(s), if they are available. Ribbons must be picked up on the show day or by appointment. They will not be mailed.
At the end of the year, we will tally all points and present prizes to the top five finishers. The first-place finisher will also receive the Beverly Equestrian Challenge Cup presented by Davis Equine + Ride Safe.
▪️ HOW TO ENTER ▪️
Please register/pay via Strider in advance. Attach your Coggins/signed Beverly release to registration or email to Organizer prior to closing.
Or electronically submit all by clicking here: https://info.striderpro.com/ewaivers/beverly-equestrian-release/
Please SOS (Save our Secretary) and enter early. Entries or documents received after 7pm the Thursday before the show will be subject to a $25 late fee.
▪️ COURSE MAPS & SCORING ▪️
We have LIVE SCORING. All information about the schooling rounds including coursemaps, tentative schedule, and live scoring can be accessed on our public Google folder: https://drive.google.com/drive/u/1/folders/1jwIuLe9DV0euaKjwpZeSevEEthAM1CqN
▪️ SCHEDULE ▪️
All information about the schooling rounds including tentative schedule can be accessed on our public Google folder: https://drive.google.com/drive/u/1/folders/1jwIuLe9DV0euaKjwpZeSevEEthAM1CqN
In the morning, we offer a ring familiarization to allow riders to get their horse into the ring to look at the jumps. The jumps are set at the poles level and you're welcome to walk/trot/canter over them. There is not a hard limit on the time the rider can spend in ring familiarization but we do ask that riders not to linger too long so that other people can also bring their horses into the ring with overcrowding. This class is $35. There are no other warm ups after this class ends.
We are timely and keep the show moving. We start at poles and go up in 3 inch increments.
Updates to the schedule will be posted throughout the day on Beverly's Facebook page and instagram. Times are very tentative.
We encourage riders of all levels to come out! Hope to see you there!
Organizer Notes
Show Rules:
1. All riders must wear ASTM/SEI approved helmets while mounted.
2. No Dogs Allowed
3. A Beverly Release must be signed by each rider/exhibitor (and his or her parent or legal guardian if under the age of 18) and other related participants prior to participating in any activity or riding at Beverly.
4. Current negative Coggins on all horses on the show grounds must be presented to show secretary.
5. Payment must be left with show secretary in office before numbers are given out.
6. Show Management reserves the right to refuse entries before or during the show without liability or compensation.
7. Show Management will not tolerate hostile or unsportsmanlike behavior.
8. Items left on show grounds will be kept for a limited time before given away or thrown out. Please be sure to get all personal items before leaving shows.
9. All riders/exhibitors (including parents and legal guardians if under the age of 18), owners, trainers, their agents, and other related Participants will be held responsible for any damage to the show grounds, jumps, rails/poles, and/or Beverly property.
10. No one or horse is allowed to walk the grounds outside of the show area. No one is allowed to touch resident horses or use their items or inside wash stalls.
11. All classes can be moved, canceled, split or combined at the option of Show Management.
17. Anyone disqualified may be found ineligible for ribbons or prizes.
18. Ribbons or prizes must be picked up at show office on show days or by appointment.
19. No cross country schooling.
Beverly's Equestrian Center was designed and built to provide excellent all-weather year-round training facilities and professional-level horse care together with consistent client support and training for the busy rider. Beverly supports riders pursuing an education in English riding, including hunter/jumper, equitation and eventing, as well as Polo. To learn more about Beverly Equestrian, visit our website at http://beverlyequestrian.com
9. JUMPER RING ROUND -3'3"
$45.00
10. JUMPER RING ROUND -3'6"
$45.00
11. JUMPER RING ROUND -3'9"
$45.00
12. JUMPER RING ROUND -4'0"
$45.00
Non-Competing Horse
$40.00
1. RING FAMILIARIZATION
$45.00
4. JUMPER RING ROUND -2'0"
$45.00
5. JUMPER RING ROUND -2'3"
$45.00
6. JUMPER RING ROUND -2'6"
$45.00
7. JUMPER RING ROUND - 2'9"
$45.00
8. JUMPER RING ROUND - 3'
$45.00
Administrative Information
Ride Time: Please check our Facebook page and instagram for updates: https://www.facebook.com/beverlyequestrian
Trailer Direction:

The entrance to the farm is from Zulla Road, at approximately 3515 Zulla Road. After turning onto Beverly Lane, follow the drive to the right through the stone pillars. After passing through the stone pillars, turn right to go through the double gate to trailer parking in the paddock. There is a short 5 minute walk from the trailer parking to the indoor and outdoor arenas. Please note that there is no entrance from Milestone.

Change Policy:

Changes are not permitted.

Refund Policy:

No refunds.

Entry Option(s) Secure Spot: Pay in full via STRIDER