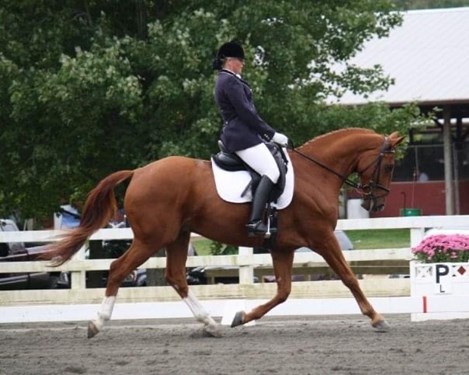 DVCTA Fix-A-Test benefit DVCTA Adult Teams with Darcy Miller

10/30/2022
Organizer:

Darcy Miller

BlueGooseShows@gmail.com

610-999-5231
Open to all a fix a test to benefit the DVCTA Adult Team. Ride any Dressage, Western Dressage, Eventing Dressage test. Each slot is 30 mins, ride your test, work on areas from feed back and re ride your test. DVCTA members select the $10.00 discount. Include your member number.
Organizer Notes
Ride times will begin at 9 am and go every 30mins. Please request ride times, we will honor request as closely as we can.
Dressage Fix A Test
$60.00
Member/Boarder Price:

$50.00
Tests/Experience
Dressage Fix A Test Tests
FEI 2018 Prix St. Georges
FEI 2020 Intermediate I
USDF 2019 Intro - Test A
USDF 2019 Intro - Test B
USDF 2019 Intro - Test C
USEF 2022 BN- Test A
USEF 2022 BN- Test B
USEF 2022 Interm- Test A
USEF 2022 Interm- Test B
USEF 2022 Modified- Test A
USEF 2022 Modified- Test B
USEF 2022 Novice- Test A
USEF 2022 Novice- Test B
USEF 2022 Novice- Three-Day
USEF 2022 Prelim- Test A
USEF 2022 Prelim- Test B
USEF 2022 Prelim- Three-Day
USEF 2022 Training- Test A
USEF 2022 Training- Test B
USEF 2023 First Level - Test 1
USEF 2023 First Level - Test 2
USEF 2023 First Level - Test 3
USEF 2023 Fourth Level - Test 1
USEF 2023 Fourth Level - Test 2
USEF 2023 Fourth Level - Test 3
USEF 2023 Second Level - Test 1
USEF 2023 Second Level - Test 2
USEF 2023 Second Level - Test 3
USEF 2023 Third Level - Test 1
USEF 2023 Third Level - Test 2
USEF 2023 Third Level - Test 3
USEF 2023 Training- Test 1
USEF 2023 Training- Test 2
USEF 2023 Training- Test 3
USEF Western Dressage Basic Test 1
USEF Western Dressage Basic Test 2
USEF Western Dressage Basic Test 3
USEF Western Dressage Basic Test 4
USEF Western Dressage Intro Test 1
USEF Western Dressage Intro Test 2
USEF Western Dressage Intro Test 3
USEF Western Dressage Intro Test 4
WDAA Basic - Test 1
WDAA Basic - Test 2
WDAA Basic - Test 3
WDAA Basic - Test 4
WDAA Intro - Test 1
WDAA Intro - Test 2
WDAA Intro - Test 3
WDAA Intro - Test 4
WDAA Level 1 - Test 1
WDAA Level 1 - Test 2
WDAA Level 1 - Test 3
WDAA Level 1 - Test 4
WDAA Level 2 - Test 1
WDAA Level 2 - Test 2
WDAA Level 2 - Test 3
WDAA Level 2 - Test 4
WDAA Level 3 - Test 1
WDAA Level 3 - Test 2
WDAA Level 3 - Test 3
WDAA Level 3 - Test 4
WDAA Level 4 - Test 1
WDAA Level 4 - Test 2
WDAA Level 4 - Test 3
WDAA Level 4 - Test 4
Administrative Information
Ride Time:

Ride times will be emailed, posted on DVCTA website and DVCTA FB page

Trailer Direction:

Easy in out trailer parking in open field

Change Policy:

Changes are not permitted.

Refund Policy:

No refunds.

Entry Option(s) Secure Spot: Pay in full via STRIDER