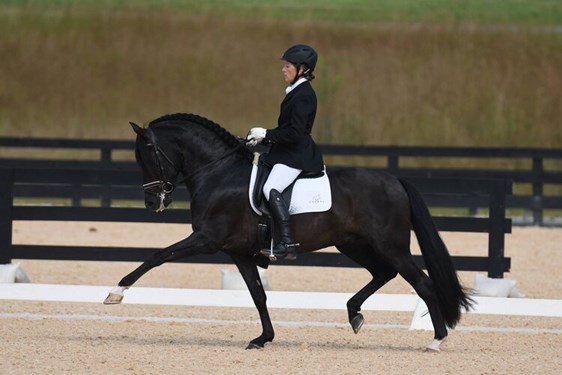 Felicitas von Neumann-Cosel

4/23/2021
Organizer:

Angerson Melissa

melissaangersonCDI@gmail.com

4438752063
Felicitas von Neumann-Cosel has trained numerous horses to Grand Prix level including the famous stallion Tonico do Top. Felicitas is a patient and sympathetic trainer that follows classical dressage principles.
Auditor and riders that are COVID vaccinated are welcome to attend the clinic. Please follow the CDC guidelines and wear a mask at all times unless you are riding.
Felicitas Ride Times for April 23rd clinic
10:15 Hannah Irons--FEI
11:00 Maureen Ellis—3rd level
11:45 Julie Parent –1st level
12:30 Gwin Hunt –2nd level
1:15 Naomi Parry—young horse (4 year old)
2:00 Hollie Cutler—1st level
2:45 Sue Maturo—training level
3:30 Allie Shelleman--PSG
4:15 Kim Goslin—2nd level
5:00 Courtney Lobel

Organizer Notes
Please email Melissa Angerson at melissaangersonCDI@gmail.com to sign up for the clinic or to let us know you are auditing.
Thank you.
1 Day Clinic
Instructor: Felicitas von Neumann-Cosel
$210.00
Tests/Experience
1 Day Clinic Levels
Training Level Dressage
1st Level Dressage
2nd Level Dressage
3rd Level Dressage
4th Level Dressage
FEI Dressage
Administrative Information
Ride Time:

I will email ride times out to all participants. The clinic starts at 11:45 and ends at 6:00

Trailer Direction:

Please park trailers in the grass in front of the building. Please pull up close to the gates and they will open automatically.

Change Policy:

Changes are not permitted.

Refund Policy:

No refunds.

Entry Option(s) Reserve Spot Via STRIDER, Mail Check