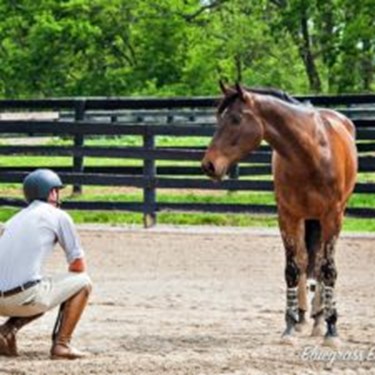 Tik Maynard and Andrea Waldo clinic

8/14/2021 − 8/16/2021
Late entries allowed until 8/7/2021
Organizer:

Kate Rakowski

katerakowski@yahoo.com

(802)299-1220
The Area 2 Adult Rider Program presents this unique clinic opportunity that combines the specialized skills of Tik Maynard and Andrea Waldo to help you understand your horse and yourself as a rider better.
Tik is widely recognized as an expert in developing a relationship with your horse through groundwork for the purpose of creating a better performance partnership. His expertise, activities and explanations for what motivates or blocks your horse will help people from any discipline from trail riders to advanced competitors. The new skills and thought processes you'll acquire will help you work better with your horse no matter what you want the horse to do.
Andrea has developed a practical, science-based set of activities and skills that will help you understand your own brain while riding. She has brought her experiences as a clinical psychologist, a long time riding instructor and advanced eventer together to help you figure out what's motivating you, what's challenging you, what's causing your fears and how to handle all those emotions.
These two clinicians both have an overriding interest in a depth of understanding beyond the range of most standard instructors and competitors. However, they also bring a healthy dose of practical work to keep you from overthinking and getting stuck in your head.
This clinic is not just an opportunity to work with each of these folks but a chance to make connections between the work you need to do on yourself and with your horse and how to apply it all in the real world. It's going to be amazing. Don't miss it.
Tik will do group (and possibly private if there's time) lessons during the day on Saturday. In addition, Saturday late afternoon and evening, Andrea will be presenting a shortened version of her usual workshop. Anyone who wants to ride with her during the rest of the weekend should definitely plan on attending. If you miss it, you won't have the basics to benefit the most from her lessons. And anyone interested in using your brain better for riding is welcome to join us. This will be followed by a social/ pot luck dinner/ Q&A/Book signing with both Tik and Andrea open to anyone and everyone riding in or auditing the clinic.
Sunday will be an amazing day when these two master trainers will co-teach lessons in jumping/XC at WinGreen. Auditors will want to plan to attend that day for sure. They have lots of idea of how to work together and alongside each other to benefit riders, horses and auditors the most. This day is the heart of this clinic.
Monday will bring Andrea's lessons working on rider's issues that have developed in the workshop or previous experiences.
Andrea's book "Brain Training for Riders" and Tik's book "In the Middle Are the Horsemen" are both available from Trafalgar Square books. If you order both these books together at least two weeks prior to the clinic, I will have the copies for you at the clinic and you can have both authors sign them. This clinic special is 10% off the retail price of buying the books separately. If you already own copies, bring them to the clinic and they will be happy to sign them for you.
Auditors are welcome for $20/day and anyone entered in the clinic is encouraged to come watch the whole rest of the clinic when you're not riding. Members of the Area 2 Adult Rider Program can get a refund of a part of their entry fee from the USEA grant.
Organizer Notes
Motels and restaurants available in Orange. Food also available a little closer in Madison. Overnight accommodations for horses and humans available at WinGreen. Stalls $40; camper hookups $20; some rooms available. Contact Kelly Adams (703) 618-3686.
Groundwork, workshop, and cavaletti/gridwork will happen at TuckerBerry Farm. Full course work and XC will be at WinGreen and you'll need to pay their facility fee in addition to the clinic fee. All group lessons will be fewer than 6 for 1 hr to 90 minutes depending on size. Lessons with Tik will focus on how to understand why your horse is doing what it's doing and how to get it to do what you want it to do. Lessons with Andrea will all focus on the specifics of your own mental game and working through the challenges you have identified in the workshop or previously.
Sunday lessons with be co-taught with Both Tik and Andrea. Plan to stay for the day and see how their philosophies, perspectives and expertise mesh together and how they approach problems from different angles.
The following types of lessons may be available:
1) Groundwork group with Tik - general relationship development and basic skills in groups. There is a possibility of 1/2 hr individual slots for a specific problem with your horse (trailer loading, a particular obstacle, etc) time permitting with an extra fee.
2) Cavaletti/gridwork group with Tik or Andrea
3) coursework group with Tik or Andrea or both
4) XC group with Tik or Andrea or both
Please add a note or send an email when you sign up with the following information: Which type of lessons you want, what level you ride, what things you and/or your horse need to work on. I will use this to develop groups with levels and issues that work well together.
A standard 3-day full clinic option would likely include a lesson (groundwork or cavaletti/gridwork with Tik on Saturday, the short version of the workshop with Andrea Saturday afternoon, a jumping/XC lesson with both on Sunday, a lesson with Andrea on Monday. (ie 4 things from the above list)
A 2 ride clinic would either include a Saturday lesson with Tik, the evening workshop with Andrea and a Sunday co-taught lesson or the workshop with Andrea, a Sunday co-taught lesson and a Moday lesson with Andrea.
A 1 ride clinic would be one ride with either clinician or a co-taught lesson on Sunday with auditing for the rest of the clinic and attendance at Saturday evening's workshop/social.
Please include a note with your entry or send an email with your level, which lessons you want, what issues you know you have, etc to help with scheduling. Please send a coggins and signed waivers with your entry. If you already have a WinGreen waiver on file this year, that is sufficient.
Full 3 ride option
$350.00
2 ride option clinic
$275.00
1 ride option clinic
$200.00
clinic special on both books written by these clinicians
$40.00
Private lesson additional charge
$25.00
1 groundwork lesson only
$75.00
Administrative Information
Ride Time:

Ride times will be emailed in the week before the clinic.

Trailer Direction:

GPS to our address will get you here fine. Parking at TuckerBerry is somewhat limited so if you can combine trailers it would help.

Change Policy:

Changes are permitted before registration closes.

Refund Policy:

Refunds are permitted before registration closes.

Entry Option(s) Secure Spot: Pay in full via STRIDER