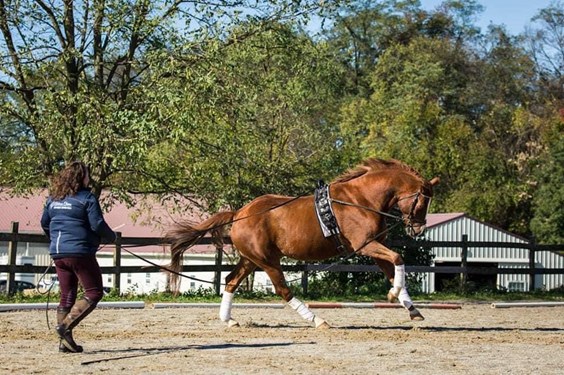 Long Lining Clinic with Jennifer Hoffman

7/30/2022
Organizer:

Katie Dodson

kdodson@sestable.com

571-666-1198
Jennifer Hoffman is a horse trainer from Wrightsville, PA. She grew up through the 4-H program and started training her first horse, an OTTB named Autumn Charm, when she was 13 yrs old. Later she named her farm after Charm, her heart horse. Autumn Charm Sport Horses is a 28 acre farm where she boards, trains, teaches, and breeds Oldenburg horses. Jenn has been professionally long lining for about 4 years. She started learning the art of Swedish Long Lining from Richard Malmgren almost 10 years ago. In 2008 she started working with Jessica Jo Tate and found the holy grail of Classical Riding. Combining this with a career of working with many types of horses, a degree in Western Equestrian Studies from the University if Findlay, being an assistant trainer for a now Gold Medalist in the WEG reining trainer, and riding multiple Grand Prix horses....Jenn enjoys figuring out the puzzle of each horse.
Long lining helps the horse find it's balanced posture without the addition of the rider's weight. It is kind, clear, and classical. Long lining is equally valuable for the rider to see and understand the struggles of the horse as well as believe that the horse can change with repetition and the right exercises. Horses usually feel great the ride after the long line session.
Beneficial for every horse in any discipline and such a great supplement to riding. From getting your horse relaxed and supple in the contact for your dressage tests, driving your pony around for fun, or perfecting your side passes for the western pleasure classes...this will help you achieve your goals with your horse!
Even without a horse, Jenn spends a lot of time explaining what she's doing, seeing, and feeling. It is a great clinic to develop your eye and very fun to audit. She is more happy to answer questions while working horses too! Auditing spots available at a great rate!
Organizer Notes
1 Day Clinic
Instructor: Jennifer Hoffman
$170.00
Tests/Experience
1 Day Clinic Levels
Introductory
Elementary
Beginner Novice
Novice
Training
Modified
Preliminary
Intermediate
Advanced
Training Level Dressage
1st Level Dressage
2nd Level Dressage
3rd Level Dressage
4th Level Dressage
FEI Dressage
Administrative Information
Ride Time:

Will be posted on Facebook page as well as sent via email.

Change Policy:

Changes are permitted before registration closes.

Refund Policy:

No refunds.

Entry Option(s) Reserve Spot Via STRIDER, Mail Check