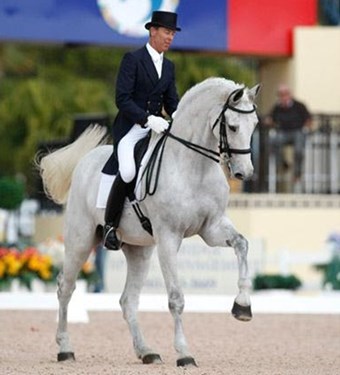 Peter Gray 2-Day Dressage & Jumping Clinic

10/9/2022 − 10/10/2022
eWaiver Link(s)

Organizer:

Margaret McKelvy

margaret@mythiclanding.com

Join us for lessons with Peter Gray at A Bit Better Farm in Brookeville, Maryland. We're thrilled to have Peter back teaching in Maryland before he's off to officiate at the Maryland 5-Star.
** 45-minute private dressage lessons @ $175/rider
-- The plan is to set up mock dressage arenas with letters so that riders can practice their tests if desired.
** 1.5-hour small group jump lessons @ $150/rider
-- The plan is to jump at A Bit Better Farm and offer both show jumping in our large outdoor arena, and/or a derby type course in our jump field. But please note that in case of heavy rain, we will jump at Covered Bridge Farm 15 minutes away in Woodbine, MD.
A few more notes:
1) Every rider receives 1 FREE auditing pass for a friend. Please include that person's name in the notes to organizer.
2) Overnight stabling can be arranged at ABBF or a nearby farm. VERY limited spaces. Email organizer for more info.
More about Peter ...
Peter Gray has competed in three Olympic games, two World Equestrian Games, is a Pan Am individual Bronze Medalist and has competed at most of the prestigious international events in Europe including Badminton, Burghley, Le Lion Dangers, Saumur, Boekolo, Luhmuhlen, Punchestown and Rolex in the USA.
In addition to his eventing, Peter has campaigned three different horses at the FEI level Dressage enabling him to compete at the Grand Prix.
Peter's training is diverse, and he has a special interest in training and producing young horses following classical training principles in both dressage and show jumping. This has made him a popular clinician throughout North America in eventing, dressage, jumping and equitation.
Peter is also a keen educator and involved as an evaluator of high-performance coaches in Canada and an advisor to the United States Eventing Association's Instructors Certification program. He was national Olympic coach for the Canadian Eventing team from 1996-2000 and has coached Pan Am teams from Venezuela 2011, Guatemala 2015 and currently is coaching the national team of Columbia.
Peter has organized several coaching symposiums and clinics with the world's best and co-founded the competition management company "Equiventures" which ran multiple national and FEI events at the Florida Horse Park from 2009-2015.
His all-round experience as a high-performance rider, coach and trainer, has seated him on many international committees including the FEI international Eventing committee, a member of the board of governors for the USEA and chair for Eventing in Equestrian Canada (the USEF's sister organization in Canada).
More recently, Peter has embarked on an additional career as an Eventing official and has quickly reached the level of "S" judge in the USA and Canada and was recently privileged with a promotion to the 4* Level as a FEI Eventing Judge.
Peter has been resident of Ontario, Canada, since completing his studies in Animal Science at the University of Guelph. He has since established his own training centers in Canada at "Stonehill Farm" and Wentworth Farm" in Ocala, Florida, offering year-round training for horses and riders.
Organizer Notes
We are operating by horse trials rules, and you "own your clinic space" after the closing date. If you cannot attend you are responsible for finding someone to fill your space, and while I will do my best to help, this is the rider's responsibility. If a replacement rider cannot be found, you are responsible for your lesson fee.

SUNDAY Private Dressage Lesson
$175.00
SUNDAY Small Group Jumping Lesson
$150.00
MONDAY Private Dressage Lesson
$175.00
MONDAY Small Group Jumping Lesson
$150.00
SUNDAY Auditing only
$15.00
MONDAY Auditing only
$15.00
2-Day Auditing pass
$20.00
Administrative Information
Ride Time: A tentative schedule will be e-mailed out 5 days prior to clinic. A final schedule will be e-mailed out the 3 days prior to clinic. The final schedule will also be available on www.abitbetterfarm.com.
Trailer Direction:

Look for blue "A Bit Better Farm" sign by the road. Drive between houses to gate leading to the barns. Press button on post to open gate. Park in front lot, or drive COUNTER CLOCKWISE around indoor and park on gravel. DO NOT PARK ON GRASS!

Change Policy:

Changes are permitted up to 7 day(s) before registration closes.

Refund Policy:

Refunds are permitted before registration closes.

Entry Option(s) Secure Spot: Pay in full via STRIDER