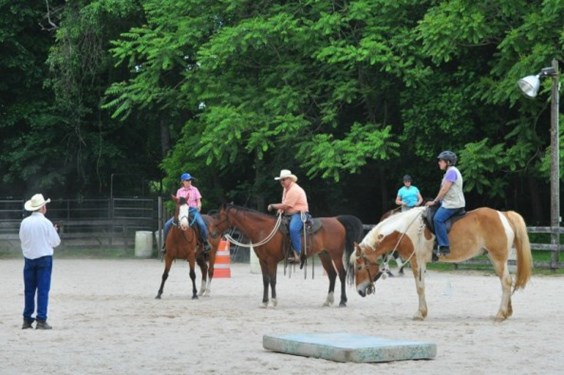 Horsemanship Clinic with Master Clinician/Instructor Jim McDonald

11/20/2021
Organizer:

Amber Frost

hhfarm2012@gmail.com

443-606-4639
Horsemanship, not Forcemanship.
Horsemanship is the art and science of being with, handling, training and riding horses with an understanding of how the horse sees the world. In this way, horsemanship is very much a mindfulness practice. As equestrians it is important to approach the horse in a way that he/she understands, this might mean we have to change our approach in communicating with our horse, especially when problems arise.
The purpose of these horsemanship clinics is to help people learn how to teach horses with an awareness of how the horse learns.
One of our greatest challenges in learning horsemanship is the need to understand the nature of the horse as a prey animal. We must also learn to appreciate the concept of herd dynamics.
What motivates horses to change their behavior is 180 degrees in opposition to that of a human. We must develop a deep understanding of what the horse needs in terms of safety and comfort in order to learn how to help them understand what we would like them to do.
This requires patience but that is not difficult if one can learn to see the little things that show the horse is making progress toward your goal. Being able to appreciate success in accomplishing the small steps toward a goal with the horse looks like patience.
Implementing the principles and practices of good horsemanship requires an understanding of how the horse behaves so that we can present information to them in a way that they understand, and develop an understanding of how, when, and why to apply appropriate reinforcement techniques to shape a desired behavior.
Learning horsemanship requires one to see the situation from the horse's point of view and to stop seeing the situation from the person's perspective.
Good horsemanship looks like empathy, patience, and understanding.
If you are looking to build a stronger bond with your horse, improve your communication with them, or build a better awareness of horse behavior, then these clinics are for you.
During these clinics, master instructor/clinician, Jim McDonald will work with participants either under saddle or on the ground to address communication barriers that are impacting your relationship with your horse and show you techniques that you can use to change your approach and build a stronger bond with your horse.
Organizer Notes
Refunds and changes allowed prior to the closing date. No refunds or changes will be permitted after that date.
1 Day Clinic
Instructor: Jim McDonald
$125.00
Administrative Information
Ride Time:

This is a group clinic - all participants should arrive early and be ready to begin at 10:00am. Auditors should arrive by the start time. The clinic will last approximately 3 hours.

Trailer Direction:

Please enter the farm from the driveway off of Long Green Pike and follow the driveway past our outdoor sand arena down to our North Barn. Trailer parking will be to the right of the barn.

Change Policy:

Changes are permitted before registration closes.

Refund Policy:

Refunds are permitted before registration closes.

Entry Option(s) Secure Spot: Pay in full via STRIDER Reserve Spot Via STRIDER, Mail Check