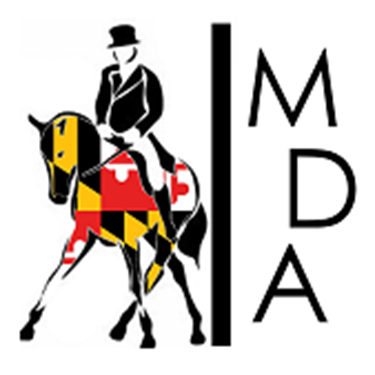 MDA Schooling Show-September-Harford County Equestrian Center

9/24/2023
Organizer:

Stacey Gilson

mdashowsecretary@gmail.com

Judge is Aviva Nebesky.
Tests offered: 2023 USEF/USDF, 2022 WDAA; are ridden in large arena. 2022 USEF/USEA (Eventing) tests are ridden in small arena.

Entry fees for all dressage tests: $30.00 per test.

Non-member fee per show: $15

Championship Qualifying: $5 per attempt to earn 62% at any Test 2 of any level to be eligible to show in the Championship classes at the Finals show.
Must be a member before scores are earned. See Championship Rules for more information.

Work Credit redemption: -$10 for one class

Horses are limited to 4 tests per show. Horses can be shared by different riders but must stay within one consecutive level.

Awards Offered:
Ribbons given Blue to Green using the Danish System
High Score Awards in all levels at each show
TIP High Score of the Day given to highest scoring TB registered in the TIP Program

Scratches MUST be made via email to MDAShowSecretary@gmail.com. No refunds after closing date without Dr. or Vet note within 7 days of show date.

ENTRIES CLOSE AT 7 PM ON SPECIFIED CLOSE DATE. LATE ENTRIES ACCEPTED WITH $20 LATE FEE if show is not full.

MDA MEMBERS HAVE PRIORITY if show is wait listed.
Organizer Notes
YOUR ENTRY IS INCOMPLETE WITHOUT UPLOADED CURRENT COGGINS AND GOOGLE FORM HOLD HARMLESS WAIVER

1) You will NOT be permitted to show unless all fees are paid in full
2) $10 refund for work credit will be issued via PayPal. Paper copy must be handed in at show for refund to be issued.
3) Time requests in comments section. All requests considered but not guaranteed.

Test #1
$30.00
Test #2

$30.00

Test #3

$30.00

Test #4

$30.00
Late Fee

$20.00

Non-Member Fee

$15.00
Tests/Experience
Test #1 Tests
Rider Choice
USDF 2023 Intro - Test A
USDF 2023 Intro - Test B
USDF 2023 Intro - Test C
USDF 2023 Training Level Freestyle
USEF 2023 Training Level - Test 1
USEF 2023 Training Level - Test 2
USEF 2023 Training Level - Test 3
USEF 2023 First Level - Test 1
USEF 2023 First Level - Test 2
USEF 2023 First Level - Test 3
USDF 2023 First Level Freestyle
USEF 2023 Second Level - Test 1
USEF 2023 Second Level - Test 2
USEF 2023 Second Level - Test 3
USDF 2023 Second Level Freestyle
USEF 2023 Third Level - Test 1
USEF 2023 Third Level - Test 2
USEF 2023 Third Level - Test 3
USDF 2023 Third Level Freestyle
USEF 2023 Fourth Level - Test 1
USEF 2023 Fourth Level - Test 2
USEF 2023 Fourth Level - Test 3
USDF 2023 Fourth Level Freestyle
USDF 2023 Quadrille (Intro - 3rd)
USDF/ USEF 2019 Quadrille Freestyle (Intro - Grand Prix)
2023 Pas de Deux Freestyle
USDF/USEF 2019 Pas de Deux (Trng - Grand Prix)
USEF 2022 Starter
USEF 2022 BN- Test A
USEF 2022 BN- Test B
USEF 2022 Novice- Test A
USEF 2022 Novice- Test B
USEF 2022 Novice- Three-Day
USEF 2022 Training- Test A
USEF 2022 Training- Test B
USEF 2022 Training Three-Day
USEF 2022 Modified- Test A
USEF 2022 Modified- Test B
USEF 2022 Modified Test C
USEF 2022 Modified 3-Day
USEF 2022 Prelim- Test A
USEF 2022 Prelim- Test B
USEF 2022 Prelim Test C
USEF 2022 Prelim- Three-Day
USEF 2022 Interm- Test A
USEF 2022 Interm- Test B
USEF 2022 Interm- Test C
USEF 2022 Adv- Test A
USEF 2022 Adv- Test B
WDAA Intro - Test 1
WDAA Intro - Test 2
WDAA Intro - Test 3
WDAA Intro - Test 4
WDAA Basic - Test 1
WDAA Basic - Test 2
WDAA Basic - Test 3
WDAA Basic - Test 4
WDAA Level 1 - Test 1
WDAA Level 1 - Test 2
WDAA Level 1 - Test 3
WDAA Level 1 - Test 4
WDAA Level 2 - Test 1
WDAA Level 2 - Test 2
WDAA Level 2 - Test 3
WDAA Level 2 - Test 4
WDAA Level 3 - Test 1
WDAA Level 3 - Test 2
WDAA Level 3 - Test 3
WDAA Level 3 - Test 4
WDAA Level 4 - Test 1
WDAA Level 4 - Test 2
WDAA Level 4 - Test 3
WDAA Level 4 - Test 4
WDAA Level 5 Test 1
WDAA Level 5 Test 2
WDAA Level 5 Test 3
WDAA Level 5 Test 4
WDAA Freestyle - Intro
WDAA Freestyle - Basic
WDAA Freestyle - Level 1
WDAA Freestyle - Level 2
WDAA Freestyle - Level 3
WDAA Freestyle - Level 4
Administrative Information
Ride Time: Ride times will be posted on Maryland Dressage Association Homepage https://www.mdadressage.org and MDA Facebook Page the Wednesday prior to the show date.

Trailer Direction: Google Maps/MapQuest, etc. is readily available for the physical address
Arena size: Large for USDF/WDAA and Small for USEA
Footing: Stone dust
Warm-up arena: Next to show arena. Fenced. Stone Dust
Parking: grass.
Water and restrooms are available

Change Policy:

Changes are permitted before registration closes.

Refund Policy:

Refunds are permitted before registration closes.

Entry Option(s) Secure Spot: Pay in full via STRIDER