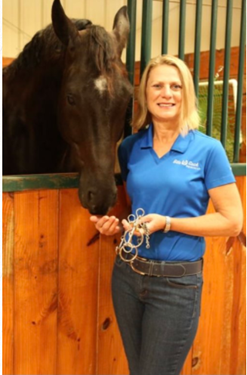 Bit Fitting with Kim Gentry

9/25/2021 − 9/26/2021
Late entries allowed until 9/24/2021
Organizer:

Megan Irby

mirby2@yahoo.com

540-247-6344
Kim Gentry is an accomplished international Grand Prix rider and trainer, a USDF L judge, and a bronze, silver, and gold medalist.
Her bit-fitting consultation provides a unique opportunity to try a wide variety of bits in a 1-1.5 hours session. She uses exercises that help the rider feel the subtle difference in the bits. She measures the horse's mouth and looks at the shape and overall anatomy of the mouth and watches the horse go under saddle. The goal is to find the bit that makes the horse the most comfortable. She explains the anatomy of the mouth and has wonderful explanations of how the bit should fit to improve your harmony with your horse.
Proper bit fitting and an optimal bit will allow your horse to become softer in the mouth, swing more in its body, and be happier.
She fits the leading brands of bits and brings many samples for you to try. She can order any bit carried by the manufacturers.
Please make sure that your check pieces and rein buckles are clean and pliable. Bring a halter to take your horse back to the barn/trailer when session is completed.

Organizer Notes
Please contact Megan with any questions. Pay in full to reserve your spot!
1 Day Clinic
Instructor: Snaffle Bit Fitting
$125.00
Member/Boarder Price:

$100.00
2 Day Clinic
Instructor: Double Bits Fitting
$175.00
Member/Boarder Price:

$125.00
3 Day Clinic
Instructor: Snaffle and Double Bit Fittings
$225.00
Member/Boarder Price:

$200.00
4 Day Clinic
Instructor: Bridle Fitting
$50.00
Administrative Information
Ride Time:

Fitting times will be sent out Thursday prior to the event.

Trailer Direction:

For larger trailers and for ease of turning back out onto Rt 522, it is easiest to enter/exit the farm from Whole Heart Way. Be aware this is a gravel road and may or may not have been regraded since the winter. If you are traveling south on Rt 522, you will pass Del Dios Way and Commonwealth Park. The next road on your left passed the Commonwealth Park entrance is Whole Hearts Way. If you are approaching on northbound 522, Whole Heart Way is just beyond a small ice cream stand on the left and before the entrance to Commonwealth Park. Once you turn on Whole Hearts Way, proceed slowly and watch for pot holes. You will follow the road all the way around and to the left where you will come onto the property just behind the indoor arena.

Change Policy:

Changes are not permitted.

Refund Policy:

No refunds.

Entry Option(s) Secure Spot: Pay in full via STRIDER