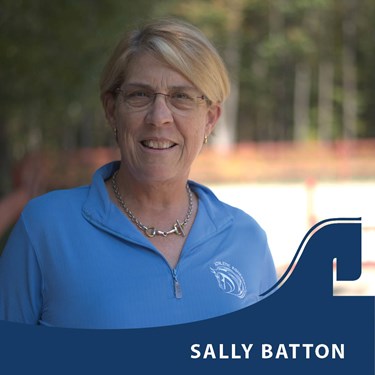 EQUITANA USA: Equicize with Sally Batton
Organizer:

Nicole Forbes

Nicole.forbes@rxglobal.com

Sally Batton will teach an Equicize Mini-Clinic on October 1, 2021 as part of EQUITANA USA to take place at the Kentucky Horse Park.
EQUITANA USA is pleased to partner with STRIDER, the leading equestrian bookings platform, to enable applications and payment for this premier opportunity. To submit your application to ride in this clinic session via STRIDER, visit: https://bit.ly/applyequitana
Equicize is a fun, mounted workout system that will get you riding fit fast! Developed by Sally Batton over her 30 year career coaching varsity collegiate athletes, Equicize will help with your cardio and muscular fitness, you'll get riding fit fast and have fun! Limited to 4 horse/rider combinations.
ABOUT SALLY BATTON:
Sally was the Director of Riding and Varsity Equestrian Head Coach at Dartmouth College in Hanover, NH for twenty-nine years. Sally was on the Intercollegiate Horse Shows Association Board from 1984-2017, including serving as the National Steward from 2001-2017 and was recognized in 2013 with the IHSA Lifetime Achievement Award. In 2019 Sally was honored among the first class inducted into the IHSA Hall of Fame. In addition to her years coaching at Dartmouth, Sally is the Founder and President of the Athletic Equestrian League and is a sought-after clinician all over the US, including Alaska and Hawai'i.
Sally is a Level III certified instructor with the American Riding Instructor's Association (ARIA), and in 2008 was awarded with the ARIA Instructor of the Year. Sally is the author of Polocrosse: Australian Made, Internationally Played and her next book Athletic Equestrian: Ride Like a Varsity Athlete will be published in '22.
To apply to ride with Sally Batton, visit https://bit.ly/applyequitana
ABOUT EQUITANA USA:
EQUITANA USA is the premier North American forum that promotes the exchange of ideas, information, and experiences to enhance the horse and the equine industry; all while providing a high-quality event for those with a passion for horses.
The live event (October 1-3, 2021) features education, entertainment, and a trade fair featuring riding equipment and apparel, horse care supplies, gifts, and more products and services.
Throughout the year, equestrians can also experience shopping, education, and entertainment digitally through the EQUITANA USA 365 hub.
🎟 To purchase tickets, visit: https://equitanausa21.com/Strider-Pro
🐴 EQUITANA USA is pleased to partner with STRIDER, the leading equestrian bookings platform, to enable applications and payment for this premier opportunity. To submit your application to ride in this clinic session via STRIDER, visit: https://bit.ly/applyequitana
Organizer Notes
Attach your horse's negative coggins and proof of vaccination within 6 months via STRIDER at the time of entry submission/ payment
Equicize with Sally Batton
$75.00
Administrative Information
Ride Time:

This clinic will take place Friday, October 1 from 3:00pm - 4:00pm in the Misty Arena at the Kentucky Horse Park.

Change Policy:

Changes are not permitted.

Refund Policy:

No refunds.

Entry Option(s) Secure Spot: Pay in full via STRIDER