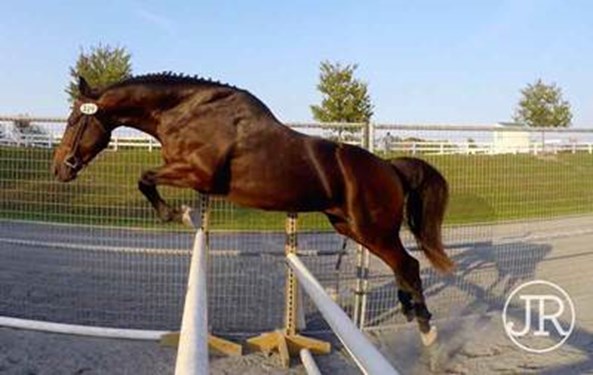 USEA FEH Jump Chute Clinic with Martin Douzant

7/12/2019
Organizer:

Carolyn Mackintosh

events@lochmoyfarm.com

301-514-0111
USEA FEH Jump-Chute Clinic with Martin Douzant
Loch Moy Farm in Adamstown, MD
July 12, 2019
The clinic is open to horses of all ages, but precedence will be given to horses that are 3 and 4 years of age and are currently competing in the USEA Future Event Horse (FEH) series.
This Clinic is intended to be an introduction for young horses to practice free-jumping in a jump chute. The setup will be similar to the chute that will be used in USEA Future Event Horse Championships.
Free-jumping is a wonderful way to evaluate the potential of a young horse over fences. It is also an effective and positive way to introduce a young horse to jumping without the guidance or distraction of a rider. Not only is free-jumping good for young horses, it is also beneficial for mature horses to keep them quick on their feet and to remind them how to take care of themselves when needed.
***To register: The total cost for the jump chute clinic will be $75 per horse, for a 30 minute session.
Please attach your signed LMF waiver, USEA Educational Waiver, and a valid coggins via the "Upload" button. Or you can upload these on the UPLOAD COGGINS/UPLOAD WAIVER links on the home page of www.themarylandhorsetrials.com. These waivers will be valid for all of the competition year or until coggins expires.
Want to Audit? Anyone may audit for $20. This is a great learning experience!
Questions? Contact The Maryland H.T. at Loch Moy Farm
Loch Moy Farm
1235 Park Mills Rd
Adamstown, Maryland 21710
Direct Phone Line: 301-514-0111
Email: mdhorsetrials@gmail.com
Organizer Notes
Schedule will be posted on the web site and emailed out to competitors at least 2 days prior to the clinic. Email us at events@lochmoyfarm if you have any scheduling requests.
1 Day Clinic
Instructor: Martin Douzant
$75.00
Day Stall

$50.00

Shavings

$10.00

RV Hookup

$45.00
Administrative Information
Trailer Direction:

From Washington D.C.--Approximate distance: 40 milesFrom Route 495, take Route 270 North, towards Frederick. Continue on Rt. 270 N, approximately 26 miles, to Exit 26 for Route 80 West, Buckeystown/Urbana. Turn right off the exit ramp, circling under Rt. 270 and continue on Rt. 80 W, approximately 1.5 miles to Park Mills Road on the left. Turn left onto Park Mills Rd. and continue straight for approximately 5.8 miles to the entrance on the right.

Change Policy:

Changes are not permitted.

Refund Policy:

No refunds.

Entry Option(s) Secure Spot: Pay in full via STRIDER