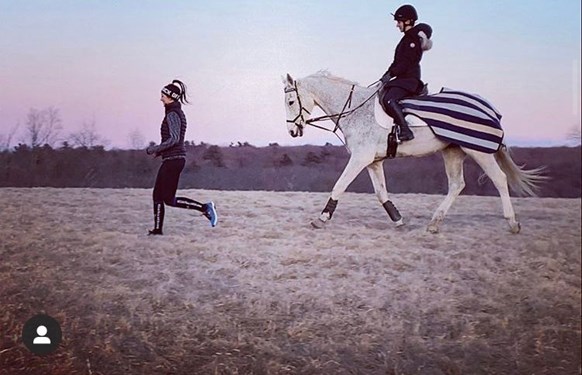 Would Rather Be at a Horse Show Virtual 5k/10k (run, walk, waddle or crawl)

5/1/2020 − 5/6/2020
Late entries allowed until 5/5/2020
Organizer:

Jessica Halliday

jlhalliday@comcast.net

978 875 2036
Would Rather Be at a Horse Show Virtual 5k/10k (Run, walk, waddle, or crawl)
(Open to ALL-not just riders! and open to riders in ANY area!)
While COVID is keeping us from horse showing (and many of us from even riding) we encourage you all to stay in some sort of shape so when we get through this pandemic we will be on our game for the horse shows. So whether you walk, run, waddle, crawl, WHATEVER-find a way to get to that finish line. This is a virtual race (but really we are not speed racers here!). Participants can be riders or not! Open to ALL and ALL ages! Participants will choose to run either the 5k or 10k (or enter both!). Participants will complete their "race" on their own route (SOCIAL DISTANCED!) between 5/1 to 5/3. You pick when you are going to run. Participants MUST email secretary (Jess at JLHALLIDAY@comcast.net) with a screen shot of a run app (Runkeeper or anything or the like) that shows your mileage and your time! Doggos are encouraged to participate. Costumes or spirit attire (maybe your horse show gear!) is encouraged as well! Participants can submit a photo as well. We do not care how slow you are we just encourage you to get out there!
Participants who complete will receive a race medal
Wide array of prizes from a growing list of sponsors (so far Buck Off Cancer, Purina, and more to be announced):
Divisions:
5k Female
5k Male
10k Female
10k Male
Goodest Boy-Dog awards! (Participants MUST submit photo to be considered)
Spirit Award-get creative in your running attire (Participants MUST submit photo to be considered)
Turtle Steps-yes there are awards for those at a leisurely pace
Funds (past medals, prizes, advertising, shipping) will be split 50/50 between the Baile Hill Farm lesson horses who due to MA mandate cannot currently earn their keep and The Cam Neely Foundation for Cancer Care
Administrative Information
Ride Time:

You chose your time! Any time between 5/1-5/3

Trailer Direction:

THIS IS A VIRTUAL RACE SO PICK YOUR OWN LOCATION!

Change Policy:

Changes are not permitted.

Refund Policy:

No refunds.

Entry Option(s) Secure Spot: Pay in full via STRIDER