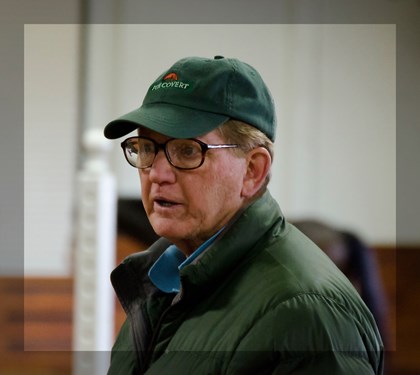 Expert Day Jump Clinic w/Jimmy Wofford

1/26/2021
eWaiver Link(s)

Organizer:

Liz Schroeder

lizskips520@gmail.com

301-775-1862
Waredaca is pleased to welcome Eventing legend Jim Wofford for his monthly 2021 Expert Day jump clinics. All clinics will be held in compliance with Maryland State Health protocols.
You MUST sign Wardaca's online waiver PRIOR to arrival as well as Fox Covert Farm's PDF waiver.
Waredaca: https://waredaca.com/waiver/
Fox Covert Farm can be downloaded from this page.
🌡 Clinics are dependent on facility COVID policies.🌡 If you book a date that is canceled funds will be held for a future date in 2021.
Riders who fail to abide by social distancing protocols will be asked to leave facility.
Jim Wofford is a 3-time Olympian who has spent his life with horses, and is one of the best-known Eventing trainers in the world today.
Widely sought after as a eventing clinician and coach, Wofford's coaching success includes at least one student on every U.S. Olympic, World Championship, and Pan-American team since 1978. This is an excellent opportunity to learn from one of the top names in the sport.
Jim Wofford Expert Days generally focus on XC, weather permitting.
When XC is not feasible (winter months/heavy rain, etc) then gridwork/coursework is the focus.
It will be either Stadium OR XC May through September.
📅2021 Dates📅
✅ Jan 26, 2021 - grid work with beginning stadium course work
✅ Feb 23, 2021 - stadium course work
✅ Mar 23, 2021 - XC OR stadium | footing & weather will determine which it will be
✅ April 13, 2021 - XC OR stadium |footing & weather will determine which it will be
✅ May 18, 2021 - XC OR stadium | footing & weather will determine which it will be
✅ June 8, 2021 - XC OR stadium | footing & weather will determine which it will be
✅ Aug 17, 2021 - XC OR stadium | footing & weather will determine which it will be
✅ Sept 14, 2021 - XC OR stadium | footing & weather will determine which it will be
Riders: Jimmy's clinic schedule runs from mid-morning through late afternoon.
Small groups up to 6 riders are generally organized around 2'6", 3'0", and 3'6" sets.
Lesson time is adjusted for group size.
Entries close the Saturday prior to each clinic to accommodate scheduling.
Attach to your online STRIDER entry: signed Waredaca release, Fox Covert Farm release.
Clinic Cost: $100 + applicable facility fee
Non-Boarders/Trailer-In Fee: $25.00
Waredaca Boarder Day Facility Fee: $12.50
(Please make sure to unselect the Trailer In Fee box on registration form and write a check to Waredaca.)
Auditors: Free & Encouraged!
🔹About Jim Wofford🔹
One of the most popular coaches in Eventing, Wofford is equally well known as an author.
📚 His books include TRAINING THE 3-DAY EVENT HORSE AND RIDER, GYMNASTICS: SYSTEMATIC TRAINING OF THE JUMPING HORSE, TAKE A GOOD LOOK AROUND, 101 EVENTING TIPS, and CROSS-COUNTRY WITH JIM WOFFORD.
In addition, he writes a monthly column for Practical Horseman.
Please contact Organizer with any questions.
Organizer Notes
• Trailerins: $100 Clinic Fee + $25 facility Fee, payable via STRIDER
• Waredaca Boarders: $100 Clinic Fee payable via STRIDER. Please uncheck the facility fee box & pay $12.50 via check to Waredaca.
• ALL: Please attach Fox Covert Farm's release to your STRIDER entry so we do not have to handle paper onsite- thank you!
ARRIVAL: Proceed to the lower outdoor arena where you'll meet the group.
CANCELLATION POLICY: The clinic fee is non-refundable. You are purchasing a time slot which is paid for in advance. If you are unable to use this space, you are responsible for finding another rider to fill it. A waiting list will be maintained for unforeseen circumstances, but there is no guarantee.
WHAT ELSE:
• For Cross Country sessions, protective vests and medical arm band required.
• Dress appropriately and comfortably.
• We have a soda machine. No food available for purchase.
• Auditors FREE and are always welcome to come watch, assist the Experts with jump crew and embrace all the information being shared. Simply come and go as your day allows. There is NO shuttle or vehicle permitted on course so plan to wear comfortable walking shoes :)
1 Day Clinic
Instructor: Jim Wofford
$100.00
Haul-in Fee

$25.00

Show Ring/Day Facility Fee

$12.50
Tests/Experience
1 Day Clinic Levels
2'6"
3'0"
3'6"
Administrative Information
Ride Time:

Ride times will be emailed to you prior to clinic.

Trailer Direction:

IN GOOD WEATHER: USE OUR EAST ENTRANCE OFF OF HOWARD CHAPEL ROAD: GPS-- 22710 HOWARD CHAPEL ROAD, BROOKEVILLE MD 20833; after pulling thru the driveway gate, park in the grassy area on the left.

IN WET WEATHER OR RECENT WET WEATHER...use our WEST ENTRANCE 4015 Damascus Road, Laytonsville, MD 20082; if heading west from the Sunshine intersection of 97/Damascus Rd drive go past the corner parking field and Waredaca Main Entrance and turn into our West Entrance just before the sharp bend in the road. Continue thru the automatic gate continue to your right, to our indoor arena, and park in the gravel area when the road widens.

You will find our Experts generally in our lower outdoor arena on the other side of where you will park.

Change Policy:

Changes are permitted up to 7 day(s) before registration closes.

Refund Policy:

No refunds.

Entry Option(s) Secure Spot: Pay in full via STRIDER