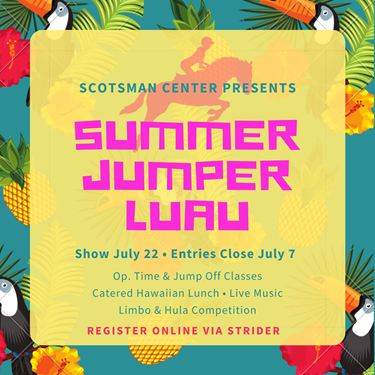 Luau Jumper Show

7/22/2023
Late entries allowed until 7/14/2023
Organizer:

Jessica Harris

info@scotsmancenter.com

530-217-7111
Join us for a Jumper's Luau!!
Live Music
Catered Hawaiian BBQ
Limbo & Hula competition during break
Custom ribbons and fun prizes!
Mini pig... what else could you want?
Divisions: Youth (17 & under) and Adult (18 & over)
Trot poles to 2'3 - Optimum time
2'6 to 3'3 - Jumper Classes w/ Jump Offs - USEF Table II Sec.2(b)
___Fees & Classes: _________________________
$45 Facility/Show fee *required*
$15 per flat class
1a. WT hunter equitation
1b. WT hunter under saddle
2a. WTC hunter equitation
2b. WTC hunter under saddle
3. lead line
$15 per fence class (max 4 fence classes)
4. Trot Poles
5a. Cross Rails (10" center)
5b. Cross Rails (18" center)
6. 2'0"
7. 2'3"
8. 2'6"
9. 2'9"
10. 3'0"
11. 3'3"
$15 per schooling round
$10 per lead line class
$15 non-compete horse
$20 dry day stall (includes cleaning)
$35 overnight stall (includes sawdust & cleaning)
(Limited stabling available, FCFS)
___Schedule:_______________________________
8:00 am Warm up opens outside. Horses may hand-walk in indoor arena until 9am.
8:15 am Show office opens
9:00 am Flat Classes begin
~10:00 am Jump Classes begin
(Class 8 to start no earlier than 1pm.)
Tentative class schedule will be posted to the Scotsman Center Facebook prior to the show.
Show limited to 50 entrants. Entry deadline is 5pm Friday 7/07/23.
$25 late fee for entries submitted after closing deadline.
Class Options Description:
*Optimum Time: courses set with goal time to complete. Times will be posted day of show.
*Jumper Round: clean round riders will pause for a buzzer then ride a jump-off for fastest time
___Show Regulations ________________________________
Delinquency Fees:
$25.00 check bounce fee
$50.00 Fine for dumping your trailer manure and/or bedding in the parking lot
Parking & Access Points: The main lobby will be closed. Entrants and spectators have access through the inside stall barn. Non-trailering vehicles and spectators please park in front of Scotsman Center. Trailer rigs park behind the facility by driving through the Northern gate. Please close the gate behind you after driving through it and follow any signs/traffic directors to ensure enough trailer parking space for all participants. See facility map on our website for details.
Dress Code & Conduct: Casual/clinic attire required. But show-theme spirit is highly encouraged! All riders must wear ASTM certified riding helmets when mounted on Scotsman Center grounds. Please read the facility rules on our website. Management reserves the right to discontinue a ride or jump round if there is a safety concern. Please clean up manure and hay dropped at your trailer!
Premises & Stabling: Please see the Horse Show Facility Map (attached); horses are not allowed in spectator-designated areas. Also, non-stabling horses are not allowed in stabling barns. Once stabling has been requested, it will be invoiced along with your show fees. Stalls are assigned by show management; requests for stabling neighbors are welcome, but not guaranteed. No refunds will be issued for unused stalls. Owners must provide their own water buckets, rakes, and bedding (no straw allowed). By entering Scotsman Center premises, owners agree to assume full liability of injury and/or illness incurred to horse or rider during participating and/or stabling. Scotsman Center is not responsible for lost or stolen items. All horses who will be stabled for the show must be presented for inspection prior to entering a stall. Management reserves the right to refuse stabling or premises access to any horse deemed undesirable.
Risks Associated With COVID-19:
By signing below, you are acknowledging that an inherent risk of exposure to COVID-19 exists in any place (public or private) where people are present. By attending this horse show, you, and any guests, and/or spectators voluntarily assume all risks related to exposure to COVID-19 and agree not to hold Scotsman Holdings, LLC or any of their affiliates, directors, owners, officers, employees, agents, contractors, or volunteers liable for any illness or injury. You also agree to follow all the COVID-19 protocols put forth by Scotsman Holdings, LLC.
Agreement:
By entering this show, I agree to all terms set forth above, I understand and assume full liability for all risks of injury, illness, and/or death to myself, my dependents, and/or my horse(s), I agree to follow Scotsman Center Facility Rules (posted in the arena), and I certify that I have signed the Scotsman Center General Liability & Image Waiver form, understand its terms, and agree to be bound by those terms.
Organizer Notes
Class changes are allowed prior to show check-in. Class changes are not allowed after show office check in.
Additional classes may be added day of show for $15 per class.
Show refunds allowed before closing date, less a $15 secretary fee.
No refunds after closing date.
1a. WT Hunter Equitation
$15.00
1b. WT Hunter Under Saddle
$15.00
2a. WTC Hunter Equitation
$15.00
2b. WTC Hunter Under Saddle
$15.00
5a. Cross Rails (10" center)
$15.00
5b. Cross Rails (18" center)
$15.00
Late Fee

$25.00

Show Fee *required*

$45.00

Day Stall (incl. cleaning)

$20.00

Overnight Stall (incl. bedding & cleaning)

$35.00

Non-Compete Horse

$15.00

RV Hookup

$30.00
Administrative Information
Ride Time:

A tentative show day schedule will be posted on Scotsman Center's facebook page on Friday before the show.

Trailer Direction: Parking & Access Points:
The main lobby will be closed. Entrants and spectators have access through the inside stall barn. Non-trailering vehicles and spectators please park in front of Scotsman Center. Drive through the Northern chain link gate. Please close the gate behind you after driving through it and follow any signs/traffic directors to ensure enough trailer parking space for all participants. Park your rig DIAGONALLY (FACING SOUTH-EAST). See facility map by clinking this link --> https://bit.ly/3pX8M7u
Change Policy:

Changes are permitted up to 0 day(s) before registration closes.

Refund Policy:

Refunds are permitted before registration closes.

Entry Option(s) Secure Spot: Pay in full via STRIDER