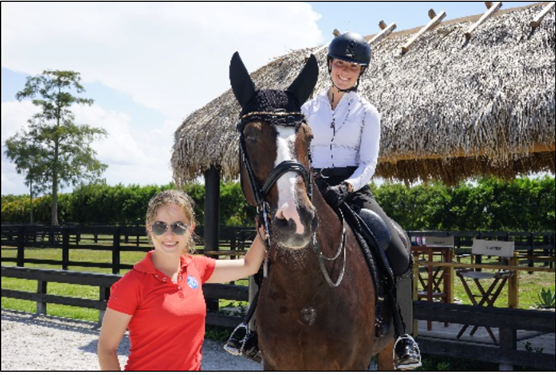 Freestyle Clinic with Collier Wimmer

2/4/2023 − 2/5/2023
eWaiver Link(s)

Organizer:

Lisa Hellmer

Lisa@lchequestrian.com

603-801-2140
Interested in understanding how freestyles are put together? Curious as to how choreography is gamified? Ready to listen to all kinds of music? Join Collier Wimmer, owner of Three Wishes Freestyles for a two-day freestyle festival (AKA a clinic).
Since 2011 Collier Wimmer has been partnering with amazing horse and rider combinations to create extraordinary freestyles that have shown and won at both Regional and National Championships, CDI's, CPEDIs, and Nation's Cups.
Whether you are keen on understanding freestyle theory, looking to create a freestyle, or simply wanting to find music to ride to, all are wel- come! There will be music, food, learning, and fun.
Day One: Starting in the morning with a lecture on her work process and freestyle philosophies, Collier kicks us off with an hour-long free- style coffee chat. Then each horse/rider combination will have 50-mi- nute lesson with Collier. As she gets to know the pair, together they will start to find the perfect music.
Day Two: A 50-minute lesson serves as a deep dive into the music se lection from the first day, along with mapping out pieces of the choreog- raphy.
After the clinic, riders and auditors will have Collier's contact info if they wish to continue to work on their freestyle or have questions! Collier will send each rider their music selections and any choreography they worked on.
For returning riders: Your clinic weekend is custom tailored to you and your freestyle. Whether its updating music, adjusting choreography, or putting your freestyle together, Collier will work with you 1:1 for a freestyle intensive weekend.
Hope to see you there!
Organizer Notes
2 Day Clinic
Instructor: Collier Wimmer
$300.00
Tests/Experience
2 Day Clinic Levels
Training Level Dressage
1st Level Dressage
2nd Level Dressage
3rd Level Dressage
4th Level Dressage
FEI Dressage
Administrative Information
Ride Time:

I will be sending an email with the schedule the week of the clinic.

Trailer Direction:

Gate Code is 2007#

The farm is called Sunflower Hill Farm

Change Policy:

Changes are not permitted.

Refund Policy:

No refunds.

Entry Option(s) Secure Spot: Pay in full via STRIDER Reserve Spot Via STRIDER, Mail Check