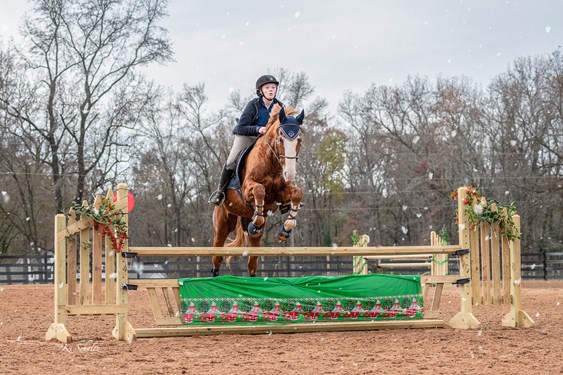 AAHC Jump thru Winter Show 2

2/28/2021
Organizer:

Cathy Micali

athensequus@gmail.com

4048057901
Come join us at our second Athens Area Horse Community Jumper Show of the winter! This fun, casual show is meant to be a great experience for horses and riders. The fabulous WINDY HILL RANCH with their glorious covered arena is hosting!!
We will start at 10am with ground poles
Schooling rounds ($12) are not timed and do not have final placings, as they are meant to be for schooling - the same horse/rider combo may enter as many jump rounds in the same division as they like - one trip per round please
Power/Moneyback rounds ($20) are timed and judged like a normal jumper show - the same horse/rider combo may only enter ONE power round per division
What is Power/Moneyback:
Per division, $10.00 from each MONEY BACK entry goes into 'the pot'.
Places 1st - 4th receive a percentage of the pot in CA$H: 1st 35%, 2nd 30%, 3rd 20%, 4th 15%
**Business Things**
Please *email* coggins to: athensequus@gmail.com
Waivers can be e-signed (pretty easy on a smartphone) and emailed or uploaded here.
Please read the Windy Hill Ranch rules that are in the attached pdf
Helmets are required!
Non-competing horses are allowed with facility fee. Please email coggins to: athensequus@gmail.com
Stalls including shavings can be rented for $30. Strip it yourself or pay $5 for it to be striped for you.
Entrants may add and scratch rounds day of with no fees
Walk in registration allowed (add $15 service fee)
Full refunds are available until close date (2/25). Full refund minus service fee ($15) available after that.
There WILL be concessions sold
Organizer Notes
Venmo, paypal, cash, or checks will be accepted as payment. Bills must be settled prior to ribbons/money back being awarded.
Money back will be paid out in cash
Concessions will be available
schooling ground poles
$12.00
office fee *REQUIRED*

$20.00

stall rental (incl shavings)

$30.00

stall strip fee

$5.00

non-competing horse fee

$15.00
Administrative Information
Ride Time: Ride times will be posted 2/26
Any class adds will ride at the end of that round

Trailer Direction: Take the FIRST driveway on the right on Smithonia Rd after the four-way (Smithonia Rd / Crawford Smithonia Rd / Smithonia Rd / Collier Church Rd).
It'll take you parallel to the road then curve right. It'll seem like you're driving to the house, but bear right and you'll come to the barn.
Change Policy:

Changes are permitted before registration closes.

Refund Policy:

Refunds are permitted before registration closes.

Entry Option(s) Secure Spot: Pay in full via STRIDER