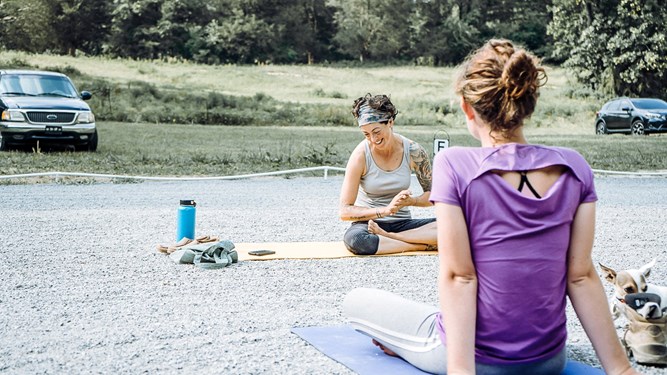 Lisa Bauman Om Clinic- The Art of Connected Riding

6/17/2023 − 6/18/2023
Organizer:

Angela Walters

angela@1primered.com

479-530-1297
Be the rider your horse deserves.
Lisa Bauman specializes in building a solid foundation for both horse and rider from which they can effectively define and reach their goals.
Bridging the gap between horse and rider fitness, Lisa introduces Yoga for Riders into her clinics. Lisa is known for being a fun and effective coach with an emphasis on core fundamentals that produce correct movement and muscle integration. Her attention to detail and love for teaching is evident in the results achieved by her students and their horses.
The workshop will focus on yoga poses for a deeper understanding of movements that are specific to riding and how to integrate that into your personal practice. Cavaletti and Gymnastic Exercises will be utilized during lessons to focus on how to help your horse move properly and bring awareness to your position. Create a deeper bond with your horse by building his or her confidence while becoming the partner your horse deserves.
No prior yoga experience is necessary. Bring a mat and your sense of humor! All disciplines are welcome.
No horse? No problem. Yoga Only and Auditing spots are available as well. Please message Angela for additional information.

Sat am: Yoga specific for Riding
Sat: Ground Poles for Footwork
Sun am: Yoga specific for Riding and Mindfulness
Sun: Ground Poles and Show Jumping
*Dressage group available for non-jumping horse/rider combinations
** All Disciplines/Ages Welcome
Organizer Notes
Acceptance of Risk:
By submitting this entry form I acknowledge that equestrian sport is of high risk and I am participating at my own risk and in full knowledge of the hazards and potential hazards, including death. In consideration of being allowed to participate in the sport and use the facilities at Parkerman Stables, I hereby assume all of the risks and I hereby release and absolve Parkerman Stables and OM Riding from all responsibility, liability, or claims of any nature and kind which might arise from my participation in this activity.
Approved safety helmet required.
Refund Information:
If rider/horse combination is selected for a class, rider is responsible for payment, or replacement of rides. The organizer must approve all final replacements.
Full refund less a $50 change fee if spot filled from waitlist/approved rider.
Stabling:
Stabling available on grounds.
Stalls must be stripped upon completion of the weekend or you may elect to have us strip your stall for $40.
Stall rental INCLUDES shavings AND 2 flakes of premium hay morning and night with fresh, clean water.
Accommodation:
No RV Hook-Ups available.
Accommodations available locally.
Property facilities include: 3 bathrooms, 2 showers, 2 full kitchens, and a club room with a TV
Dogs:
Well-behaved dogs only. Dogs must be leashed at all times for the safety of our riders. Please have your pups in your trailer/vehicle during your ride times.
Coggins:
Proof of negative coggins required.
Please stay up to date regarding Health Certificates for travel.
Food and Drink:
We will potluck lunch and dinner both days.
We will provide the main course!
Please bring your favorite side dishes to share for each meal.

FACILITY DETAILS:
Parkerman Stables sits on 45 acres of land in a premier neighborhood in Fayetteville Arkansas. We are home to over 48 horses who enjoy a lovely lifestyle with a full-time crew who meets their every need. With a full barn, a side barn, and roomy paddocks; indoor wash racks, outdoor wash racks, two outdoor riding arenas, and an indoor riding arena; a pond, room to ride the property, 2 full kitchens, 3 bathrooms, 2 showers, a club room, and on-site owners... Parkerman Stables is the place to be for events, parties, lessons, and boarding.
Full Clinic (Workshop and Riding)
$325.00
Workshop Only (non-riding)
$100.00
Haul In Fee

$20.00

Day Stall

$30.00

Full Stabling

$60.00
Administrative Information
Ride Time:

All entries will be confirmed via email. Entries shall be submitted ONLINE only. Ride times will be arranged with the organizer, instructor, and rider. They will be sent the week of the clinic. For questions about submitting an entry, you can contact Lisa Bauman at lisa@omriding.com.

Trailer Direction:

Easy in and easy out. As you enter the facilities there will be help to direct you to your parking space. Coggins will be checked upon arrival, Please have them accessible.

Change Policy:

Changes are not permitted.

Refund Policy:

Refunds are permitted before registration closes.

Entry Option(s) Secure Spot: Pay in full via STRIDER