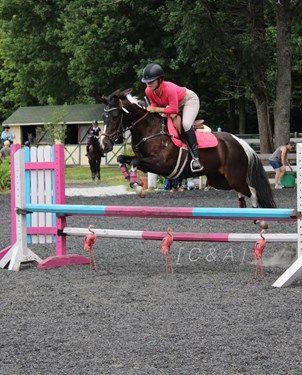 Halloween Schooling Jumper Show

10/16/2022
Organizer:

Lauren Daugherty

lauren@bailehillfarm.com

9784603737
Celebrating Halloween and fall with a fun jumper show! Jump rounds from ground pole up to 3'6" on our professionally designed courses. Walk/Trot and W/T/C flat classes. We are also adding fun classes in W/T-2' divisions with a chance to win great prizes! Professionally designed courses in an inviting atmosphere. Show starts at 9am with walk trot division and will go up from there. There will be a costume class after the flat classes. Riders can ride in their costumes for the entire show if they desire as long as it is safe for both horse and rider.
***Parking is tight, no parking on Putnam Hill Rd. You can park over at Shaw across the street.
!!!PLEASE READ CAREFULLY BEFORE ENTERING!!!
This show is part of the Buck Off Cancer Series that will be hosted at Wildflower Stables, Emerald Isles Eventing Center and Baile Hill Farm throughout the summer and the fall. Entries in the Buck Off Cancer classes will qualify for year-end championship ribbons. You must compete in at least two separate shows in the same Buck Off Cancer Division to qualify. Proceeds will go to the Buck Off Cancer 501(c)(3) in memory of Jessica Halliday. Hosts reserve the right to combine divisions based on number of entries. Ribbons 1st-4th.
The Walk Trot Division is $90 and includes Walk Trot Suitability, Walk Trot Equitation, Ground Pole Optimum Time and a Fun Class. You may register for the entire division for a discount or register for individual classes.
The Walk Trot Canter (WTC) Division is $70 and includes WTC Suitability, WTC Equitation, and a Fun Class. You may register for the entire division for a discount or register for individual classes.
We have divisions for all jumping heights (X-Rails through 3'6'') EXCEPT the height of 2'6''. Jumping divisions include Optimum Time, Power and Speed and a Buck Off Cancer round.
To sign up for a single BUCK OFF CANCER round, please select the appropriate STAKES TABLE class.
If you have signed up for a division you will automatically be entered into the fun class. To sign up for a single fun class your options are as follows.
Lead line: Organizers choice #1
Walk/Trot: Organizers choice #2
Walk/Trot/Canter: Organizers choice #3
X-rail: X-rail Warm Up
2': 2'-2'3" Warm Up
All riders must wear an ASTM-SEI approved helmet when mounted. Attire will be casual with short or long-sleeved collared shirts and neutral jodhpurs/breeches with appropriate boots or half-chaps. No dogs and no smoking. This includes parking areas, ringside, and anywhere else on the show grounds. All horses must have a negative Coggins.
The first division to ride will be Walk/Trot with the first class starting at 9am. We will move up in the levels from there.
Please email any questions to LAUREN@BAILEHILLFARM.COM

Organizer Notes
Please reach out with any questions!
WALK-TROT DIVISION
$70.00
Walk Trot Suitability
$25.00
Walk Trot Equitation
$25.00
Ground Pole Optimum Time
$25.00
X-Rails Optimum Time
$25.00
X-Rail Power & Speed
$25.00
X-Rails Stakes Table
$25.00
2'-2'3" Optimum Time
$25.00
2'-2'3" Power & Speed
$25.00
2'-2'3" Stakes Table
$25.00
2'6" Power & Speed
$25.00
2'9"-3' Optimum Time
$25.00
2'9"-3' Power & Speed
$25.00
2'9"-3' Stakes Table
$25.00
3'3" Power & Speed
$25.00
3'6" Power & Speed
$25.00
Organizer's Choice #1
$25.00
Organizer's Choice #2
$25.00
Organizer's Choice #3
$25.00
Administrative Information
Ride Time:

Show starts at 9 am with Walk-Trot Classes and will move up levels from there. Costume class will be held at the end of WTC division.

Trailer Direction:

Pull down the driveway and park with trucks facing the indoor

Change Policy:

Changes are permitted before registration closes.

Refund Policy:

Refunds are permitted up to 1 day(s) before activity begins.

Entry Option(s) Secure Spot: Pay in full via STRIDER Reserve Spot Via STRIDER, Mail Check