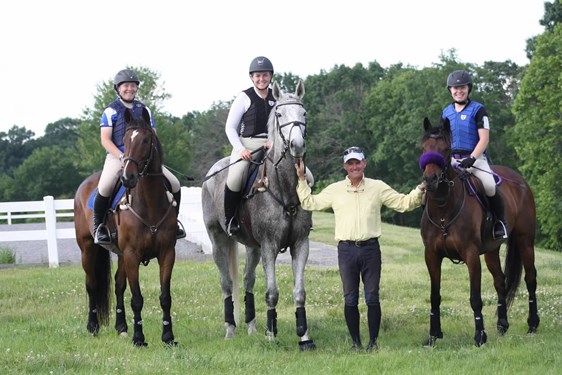 Stephen Bradley Spring Mini Camp

4/15/2021 − 4/17/2021
Late entries allowed until 4/11/2021
Organizer:

Margaret McKelvy

margaret@mythiclanding.com

3015028929
Join Stephen Bradley for a spring mini-camp at Hickory House in The Plains culminating in a trip to the MDHT Starter Event on Saturday, April 17th! Riders will be able to design their own experience to include private or group lessons, course walks and/or show coaching.
Here is the planned schedule:
Thursday: All-day private and group lessons (you choose your phase!)
Friday: Morning private and group lessons + Afternoon course walks at MDHT
Saturday: Coursewalks & Coaching at MDHT Starter Event
Costs are as follows:
$100 per private lesson
$75 per group lesson
$30 per day grounds fee
$50 per rider for course walks (incl. SJ & XC!)
$100 per day show coaching
Set on over 300 acres, the farm boasts incredible amenities including a state-of-the-art all-weather outdoor arena and full cross-country schooling course.
Stephen enjoys teaching all levels of riders from beginners to the advanced competitor. His enthusiasm, talent for communication, and ability to inspire confidence in the horse and rider especially make him a hit with the adult amateurs and pony clubbers! When training with Stephen, you can be confident that you will receive expert instruction for your level of riding.
Organizer Notes
A schedule will be sent out ~5 days prior to the clinic. At this point you own your clinic space. If you cannot attend you are responsible for finding someone to fill your space, and while I will do my best to help, this is the rider's responsibility. If a replacement rider cannot be found, you are responsible for your lesson fee.
Thursday Group Lesson
$75.00
Thursday Private Lesson
$100.00
Friday Group Lesson
$75.00
Friday Private Lesson
$100.00
Saturday Show Coaching
$100.00
Administrative Information
Ride Time: Ride times will be emailed and posted to www.stephensbradley.com ~5 days prior to the clinic. If you have any time constraints, please make those known to the organizer when you sign up!

Trailer Direction: PLEASE FOLLOW THE BELOW DIRECTIONS, which will take you to the back entrance where the xc course and parking pad is:
1) Going WEST on Route 50, make a LEFT onto Zulla Road
2) Go 1.3 miles and look for a 45mph sign on the right hand side of the road, make a LEFT immediately following this sign onto a paved driveway with brick pillars
3) When you see the cross country course, look for a gravel driveway leading to a parking pad (near the water jump)
4) Please keep trailers off the grass!
Change Policy:

Changes are permitted up to 4 day(s) before registration closes.

Refund Policy:

Refunds are permitted before registration closes.

Entry Option(s) Secure Spot: Pay in full via STRIDER