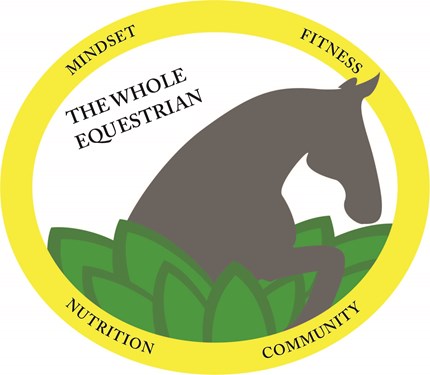 The Whole Equestrian Clinic

9/12/2020 − 9/13/2020
Late entries allowed until 9/9/2020
Organizer:

Marcia Sengstock

marcia.sengstock@greenbayymca.org

Have you listened to The Whole Equestrian podcast yet? If not, are you interested in discovering ways to improve your riding and overall quality of life in and out of the saddle? If so, tune in to the podcast and join Emily and Tyler (hosts of the show) for this very special clinic. The clinic will cover topics related to mindset, fitness, nutrition, and community with thoughtful discussions and group activities. We will be sharing actionable advice that you can start applying right away. Our goal is to give you the tips and tools you need to become a well rounded and "whole" equestrian to bring your vision of success with your horse to life.
The clinic will focus on unmounted sessions that everyone will participate in from 8:00 am-11:00 am. We will start the day by focusing on fitness with stretching, yoga, and pilates. You do not have to have previous experience in order to do this as we will be focusing on establishing good basics. All you need is an open mind and a yoga mat. We will then move into topics and activities related to goal setting, developing good habits, maximizing your time, etc. After that, Tyler will lead a group discussion about mindset and how you can train your brain to cope with horse show anxiety, setbacks, etc. We will round out the morning talking about nutrition and sharing a healthy meal together (meal is included with entry).
The first day will be laying down the basic framework we believe is needed to improve your equestrian lifestyle. The second day will build on the first day and add in some fun extras. We encourage everyone to participate in both days to reap the full benefits. However, we understand life happens and if you can only make 1 day we will make sure you get the most out of it. Also, if you are unable to make it to the first day but can make it to the second day we promise you won't be in over your head.
Individualized training will begin at 12:00 PM. Included in the price of the clinic is a group jumping lesson with Emily (2-3 riders/group) and a 30 minute 1 on 1 mental training session with Tyler.
Emily is a 4* level eventer who was Phillip Dutton's head rider for 3 years before starting her own operation this year based out of Phillip's, True Prospect Farm. She is passionate about teaching and creating an individualized approach to bring out the best in every horse and rider no matter the level. Tyler has her Masters Degree in Sports Psychology and is a mental toughness coach. She is also a professional groom for international event rider, Jennie Brannigan. So, if anyone is interested in upping their grooming game she is available for that as well.
The auditing fee is to watch the riding lessons only since the rest of it is unmounted and personalized for the people participating. If you are interested in doing the unmounted sessions but are unable to do the riding lesson due to lack of a horse, etc. please reach out to the organizer, and if space allows we can give you a discounted rate to participate in the other things only.
We are really looking forward to helping you bridge the gap between riding and wellness! In the meantime, enjoy the ride!
***We will give full refunds if the clinic has to get canceled due to COVID-19 restrictions***
Organizer Notes
1 Day Clinic
Instructor: Emily Hamel and Tyler Held
$250.00
Deposit to Hold Spot

$75.00
2 Day Clinic
Instructor: Emily Hamel and Tyler Held
$450.00
Deposit to Hold Spot

$150.00
Day Stall

$30.00

Late Fee

$50.00

Shavings

$8.00
Tests/Experience
1 Day Clinic Levels
Introductory
Elementary
Beginner Novice
Novice
Training
Modified
Preliminary
Intermediate
Poles-18"
2'3"
2'6"
2'9"
3'0"
3'6"
3'9"
2 Day Clinic Levels
Introductory
Elementary
Beginner Novice
Novice
Training
Modified
Preliminary
Intermediate
Poles-18"
2'3"
2'6"
2'9"
3'3"
3'6"
3'9"
Administrative Information
Ride Time:

Ride times will be emailed by 9/9/20

Change Policy:

Changes are permitted before registration closes.

Refund Policy:

No refunds.

Entry Option(s) Secure Spot: Pay in full via STRIDER Pay Deposit via STRIDER and the remainder by check