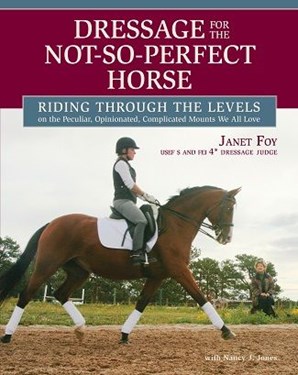 USDF GMO Book Club Meeting with Janet Foy

5/11/2020 − 6/24/2020
Organizer:

Holly Zickler

hollyz.sfda@gmail.com

973/801-9380
We're down to our last week before the event.
PLEASE CHECK YOUR EMAIL FOR INSTRUCTIONS ON HOW TO JOIN THE MEETING!!
Still, spending more time out of the saddle than in? Join USDF GMO members from around the country in reading Janet Foy's Dressage For The Not-So-Perfect Horse. We'll have a Zoom meeting with Janet to discuss it on June 24th at 7 PM Eastern Time.
YOU WILL FIND A LINK AND INVITATION TO JOIN THE MEETING IN AN EMAIL FROM: HOLLYZ.SFDA@GMAIL.COM
We might record the meeting. In signing up here, you agree to be part of the recorded session.
Our Zoom pre-meeting on June 18th was great. We discussed the book in smaller groups using the breakout rooms feature. We came up with a few questions to ask Janet when we meet with her. There are 132 of us so far, so our meeting with her will probably have to be more formal. This gave us a chance to meet more casually.
This is a GMO members-only event. We provide support and camaraderie for our members as they pursue their dressage goals. Please make sure that your membership is up to date. Not a USDF GMO (Group Membership Organization) member yet? Join one!! We're great!
Here's a link to find one in your area:
https://www.usdf.org/clubs/region_map.asp
To order the book, the USDF shop seems to be shut down right now so you are better off trying Amazon for Ebooks and a few discounted or used hard copies. Trafalgar has plenty of hard copies to send.
Here's the link:
https://www.horseandriderbooks.com/product/DRNOPE.html
In the "Notes to Organizer" section, please tell us your city and state and which GMO you belong to so we can add you to our map. See where we are joining from!
Here's the link:
https://www.google.com/maps/d/drive?state=%7B%22ids%22%3A%5B%221Fi3b1QQSc_wBmGDuDZcvxXe1c3-5jvZz%22%5D%2C%22action%22%3A%22open%22%2C%22userId%22%3A%22110994374454727696021%22%7D&usp=sharing
If there is enough interest, perhaps we could put together a chat group of some kind for readers to connect with each other before the meeting with Janet?
Happy reading!
Organizer Notes
Please contact if you have any comments, suggestions, or problems with acquiring the book, connecting to Zoom, or the format for the book club.
Ah! Please add your GMO and the city, state in the "Note to Organizer Section" so we can create a map of where everyone is joining us from. Not sure yet how to share it or what platform to use but it might be fun to see!
Administrative Information
Trailer Direction:

Hope you won't need a trailer for this

Change Policy:

Changes are not permitted.

Refund Policy:

No refunds.

Entry Option(s) Secure Spot: Pay in full via STRIDER