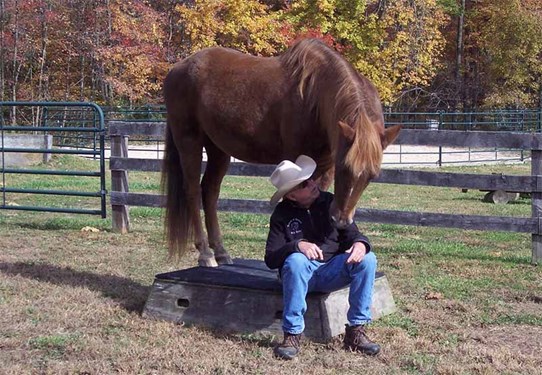 Ground Work Clinic Series with Jim McDondald - July 24

7/24/2021
Organizer:

Amber Frost

hh2021@gmail.com

In this series of 4 groundwork clinics led by master clinician, Jim McDonald of Jim McDonald Horsemanship, you will learn his 10-step ground work principles and use them to establish a deeper connection with your horse through purposeful leadership. This series is great for those with previous horse experience looking to develop a stronger bond with their horse and increase their horsemanship skills.
This clinic operates as a group setting so participants will all be together at the same time learning each of the 10-steps. In order to take part in Sessions 2 – 4, participants will need to have completed each of the previous Sessions.
"Know exactly what you want from your horse. Know precisely what you want down to which foot is to move, where it is to move and how many times! When you know that, ask him for what you wantand start soft but gradually increase the pressure until he gives you the response that you want. As soon as he starts to give you what you want just stop!" -Jim McDonald
Session 1 – Steps 1 to 3 (June 26 at 2:00pm)
Session 2 – Steps 4 to 7 (July 10 at 10:00am)
Session 3 – Steps 8 to 10 (July 24 at 10:00am)
Session 4 – Obstacle Challenge (August 7 at 10:00am)
Steps being covered through the clinic series:
Step 1: Desensitization: learn the technique for eliminating fear in your horse.
Step 2: Move the feet in all directions to a soft touch. Eliminate the need for harsh pressure.

Step 3: Move the feet in all directions from a distance. Learn the subtleties of body language in sending a message to your horse.

Step 4: Teach your horse about your personal space.

Step 5: Teach your horse how to keep doing what you ask of him without having to nag him.

Step 6: Teach your horse to be comfortable going into tight spaces.

Step 7: Teach your horse to move with you without the need to go forward.

Step 8: Teach your horse to come to you from his right side.

Step 9: Teach your horse to come to you from his left side.

Step 10: Teach your horse to come to you so you can get on while standing on the mounting block.
Organizer Notes
Refunds and changes allowed prior to the closing date. No refunds or changes will be permitted after that date.
Administrative Information
Change Policy:

Changes are permitted before registration closes.

Refund Policy:

Refunds are permitted before registration closes.

Entry Option(s) Secure Spot: Pay in full via STRIDER Reserve Spot Via STRIDER, Mail Check