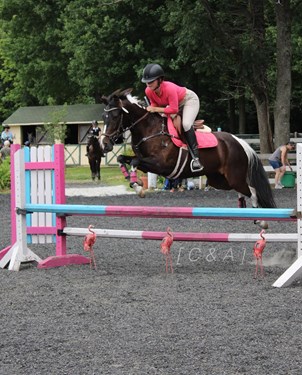 Summer Schooling Equitation & Jumper Show

7/15/2023
Late entries allowed until 7/14/2023
Organizer:

Lauren Daugherty

Lauren@bailehillfarm.com

9784603737
Come join us at our inviting and fun schooling jumper shows! With thoughtfully designed courses and a great atmosphere for both green horses and riders. We will have W/T and W/T/C flat divisions and Ground poles - 3' courses. For a chance to win great prizes we have fun classes in each flat division which bring out the competitive side in everyone, spectators included. The Gamblers Choice jump rounds will have part of the proceeds going to Buck Off Cancer. We will have some great vendors on site for all of your horse shopping needs! This is a great show to bring a group of students to as there is something for every level of rider and everything is in close proximity! Dress code is show casual, tan pants and polos/collared shirts, show jackets are also acceptable.
Warm up area is in the indoor. There will be a paid warm up in the show ring starting at 8am for those looking to warm up over the set courses. You must provide your own ground person to set jump heights.
Please inquire with any questions by emailing Lauren at Lauren@bailehillfarm.com.
Equitation Rounds Judge the riders position and ability to communicate with the horse effectly.
Suitability- Judges the partnership between horse and rider and is judged on how the pair work together as a team.
Optimum time- The winner is the rider nearest to the optimum time with the lowest penalties
Power and Speed - The course is divided into two parts, with the first being the "power" part, and the second being the "speed" portion. For the power portion you must ride clear and within the time then you immediately, without stopping, continue to the speed section of the course, in which you aim to go a bit faster.
Gamblers Choice - A fun times class based on point accumulation and your own course design. You have 60 seconds to jump as many jumps (each jump only once in each direction) as you can. Jumps have different points. Knocked rails subtract points. No faults for refusals. After the 60 seconds is up and the whistle blows you may choose to jump the GAMBLER jump. If you choose not to jump it your score remains the same and you exit the arena. If you choose to jump it you must immediately (without pulling up) proceed to the GAMBLER jump. If your horse refuses, you turn out, you have a run out, or you fall off you will lose substantial points from your score. If you are successful at the GAMBLER jump you will receive a sizable point advantage. Most points wins!
Organizer Notes
Walk Trot division (Equitation, Suitability, Fun Class)
$70.00
Walk Trot Equitation
$25.00
Walk Trot Suitability
$25.00
Walk Trot Fun Class
$25.00
Walk Trot Canter Division (Equitation, Suitability, Fun Class)
$70.00
Walk Trot Canter Equitation
$25.00
Walk Trot Canter Suitability
$25.00
Walk Trot Canter Fun Class
$25.00
Ground Poles Division (Equitation, and BOC Gamblers Choice)
$45.00
Ground Pole Equitation
$25.00
Ground Pole BOC Gamblers Choice
$25.00
X-Rail Division 12" and under (Equitation, Optimum Time, Power and Speed, Gamblers Choice)
$95.00
X-Rail Optimum Time
$25.00
X-Rail Power and Speed
$25.00
X-Rail BOC Gamblers Choice Buck Off Cancer Round
$25.00
18" Division (Equitation, Optimum Time, Power and Speed, BOC Gamblers Choice)
$95.00
18" Power and Speed
$25.00
18" BOC Gamblers Choice
$25.00
2' Division (Equitation, Optimum Time, Power and Speed, BOC Gamblers Choice)
$90.00
2' Power and Speed
$25.00
2' BOC Gamblers Choice
$25.00
2'3" Division (Optimum Time, Power and Speed, BOC Gamblers Choice)
$70.00
2'3" Power and Speed
$25.00
2'3" BOC Gamblers Choice
$25.00
2'6" Division (Optimum Time, Power and Speed, BOC Gamblers Choice)
$70.00
2'6" Power and Speed
$25.00
2'6" BOC Gamblers Choice
$25.00
2'9" Division (Optimum Time, Power and Speed, BOC Gamblers Choice)
$70.00
2'9" Power and Speed
$25.00
2'9" BOC Gamblers Choice
$25.00
3' Division (Optimum Time, Power and Speed, BOC Gamblers Choice)
$70.00
3' Power and Speed
$25.00
3' BOC Gamblers choice
$25.00
Additional Jump Round
$25.00
Paid Warm up in Show ring
$20.00
Administrative Information
Ride Time:

The show will start at 9 am with open warmups starting at 8. We will start with walk trot division, then w/t/c, ground poles, xrails and up.

Trailer Direction:

All trailer parking is in the parking lot next to the indoor. Please email in advance to let me know if you have anything bigger than a 2 horse trailer so I can make sure to reserve the bigger spots.

Change Policy:

Changes are permitted before registration closes.

Refund Policy:

Refunds are permitted before registration closes.

Entry Option(s) Secure Spot: Pay in full via STRIDER