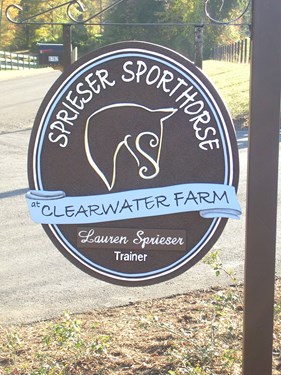 Groundwork For Riders with USDF Bronze Medalist Sarah Drew

8/18/2018
Organizer:

Lauren Sprieser

lauren@spriesersporthorse.com

A great partnership with your horse begins on the ground. Many of us have worked hard to improve our riding skills but our horse is still a challenge when we are working on the ground. Join USDF Bronze Medalist and Relationship-based horsemanship Instructor Sarah Drew for a day of practical groundwork that will help you and your horse communicate with greater clarity and subtlety. Sarah teaches a clear and patient way with horses from the ground that lets riders establish a connection that is easy to take to the saddle.
Whether your horse is pushy and difficult, or quiet and withdrawn; whether you're a confident rider or more nervous; Sarah can help you and your horse work better as a team before your foot hits the stirrup. This information will help you and your horse work together when leading, brushing, saddling, shoeing, bathing, trailering, feeding, and when you take them to someplace new.
"As an international Grand Prix dressage rider and trainer, I've worked with countless horses from the saddle, and I'm confident there. But Sarah helped me expand my toolbox for groundwork, and I'm delighted by how much it's helped my top young prospects gain patience and trust. This isn't groundwork as an end; Sarah teaches groundwork as a means to an end, and her principles are 100% consistent with good correct riding. I'm so grateful for her help!" - USDF Gold Medalist Lauren Sprieser
This workshop is being held at beautiful Sprieser Sporthorse in Marshall VA. Sarah is a lifelong horsewoman who found the Parelli groundwork system to help her with a difficult horse, who has since gone up the levels of dressage. She has lived and worked in Europe, Africa and Asia, riding and training horses in every location. She studied the Parelli since 2002 and was a 2 star instructor for five years. She has trained extensively in dressage, horse behavior and psychology, has started colts in Texas, and achieved her USDF Bronze Medal in her first two years of showing with a horse she trained.
Organizer Notes
No stabling is available.
1 Day Clinic
Instructor: Sarah Drew
$50.00
Administrative Information
Ride Time:

Times will be emailed out on Friday.

Trailer Direction: Trailer-friendly directions online at http://spriesersporthorse.com/directions.
Change Policy:

Changes are not permitted.

Refund Policy:

No refunds.

Entry Option(s) Secure Spot: Pay in full via STRIDER Reserve Spot Via STRIDER, Mail Check