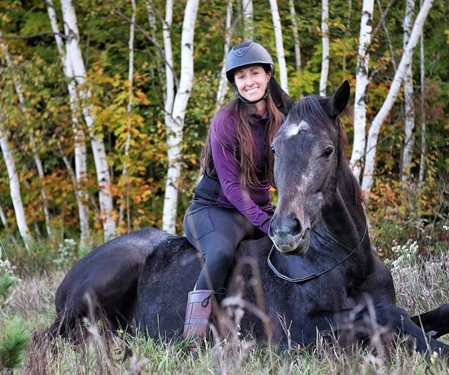 Become The Centre of Your Horse's Universe: By Lindsey Partridge of Harmony Horsemanship

11/19/2020 − 11/22/2020
Organizer:

Allison Gennings

alliemay@luckyorphanshorserescue.org

This 4 day clinic will close at 10 participants and will fill QUICKLY!!!!
Please pay a $250.00 deposit to hold your spot. The remainder of the balance can be paid to https://www.paypal.com/paypalme/luckyorphans
Become the Centre of Your Horse's Universe

Day 1: Let's Start from Scratch - Overview of the Harmony Training Continuum and Finding a Calm Connection
-The 2 best exercises from Respect & Safety
-The 6 Calm Connection exercises to calm your horse
Day 2: Become the Focus to Your Horse and Liberty
My #1 secret that is the root to all of my success with horses
-Revealing missed opportunities for a better connection
-Understand how to match your horse's energy and why this changes everything
-The 8 ABCs
-The most common mistakes of body language & how to fix them
-Liberty basics Demystified
-The 6 join up games
Day 3: Building Confidence and Taking the Calm Connection into the Saddle
-Building Confidence session with distractions and obstacles
-Riding the 6 calm connection exercises
-Starting with a good mount
-Knowing your horse is ready to ride
Day 4: Riding the ABC's, Refinement, and Private Sessions
-Riding all 8 ABCs
-Adding Refinement to your groundwork – shoulder in, bending, and balance without side reins or stress
-The 3 S's to continue progress
-Mini private sessions with Lindsey so you can get help with your specific goals
Schedule Details
Thursday- Saturday, 9am-6pm with a lunch break and dinner break. We start at 9am without horses in the classroom. Meals are not provided.
Covid: Please bring a mask for all indoor instruction and temperatures will be taken at the start of each day.

Water and coffee/tea is available at 8:00 am.

Organizer Notes
Proof of current negative coggins and proof of current rabies vaccine is mandatory. No horse will be allowed on property without this.
If you must cancel, a 25% Refund Fee will be charged for admin fees.
Please complete the waiver here and in the documents section:
4 Day Clinic
Instructor: Lindsey Partridge
$1,000.00
Deposit to Hold Spot

$250.00
Administrative Information
Trailer Direction: Call for information. Trailers are not allowed on the Taconic Parkway.
Bring your own horse feed/hay and care items for stall.
Change Policy:

Changes are permitted up to 1 day(s) before registration closes.

Refund Policy:

Refunds are permitted up to 10 day(s) before activity begins.

Entry Option(s) Secure Spot: Pay in full via STRIDER Pay Deposit via STRIDER and the remainder by check