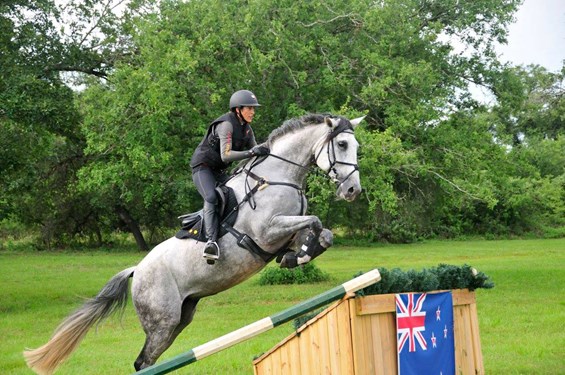 Om Riding Mini Clinic with Lisa Bauman

6/25/2022
eWaiver Link(s)

Organizer:

Lisa Bauman

lisa@omriding.com

4402417057
One Day Intro to Om Riding Clinic.
Come join us and learn how to find better balance both in and out of the saddle. Unmounted Yoga and Breathwork followed by mounted exercises to help you and your horse be successful.
Be the rider your horse deserves.
Former Trainer for Phyllis Dawson of Windchase Eventing, Lisa Bauman travels nationwide teaching Eventing Clinics and how yoga can help build a better partnership with you and your horse.
Bridging the gap between horse and rider fitness, Lisa introduces Yoga for Riders into her clinics. Lisa is known for being a fun and effective coach with an emphasis on core fundamentals that produce correct movement and muscle integration. Her attention to detail and love for teaching is evident in the results achieved by her students and their horses.
The workshop will focus on yoga poses for a deeper understanding of movements that are specific to riding and how to integrate that into your personal practice. Cavaletti and Gymnastic Exercises will be utilized during lessons to focus on how to help your horse move properly and bring awareness to your position. Create a deeper bond with your horse by building his or her confidence while becoming the partner your horse deserves.
No prior yoga experience is necessary. Bring a mat and your sense of humor! All disciplines are welcome.
Organizer Notes
Approved safety helmet required.
Refund Information:
If rider/horse combination selected for a class, rider is responsible for payment, or replacement of rides. All final replacements must be approved by organizer.
Full refund less a $50 change fee if spot filled from waitlist/approved rider.
Stabling:
Limited Stabling Available.
Coggins:
Proof of negative Coggins required.
Please stay up to date regarding Health Certificates for travel.
Please be mindful of biosecurity protocol.
Food and Drink:
We will potluck. Please bring dishes to share with your fellow riders.
Please bring a variety of healthy-ish food. Paleo and Gluten-free encourage.
No veggie trays. (long story)
1 Day Clinic
Instructor: Lisa Bauman
$130.00
Change fee

$30.00

Refund fee

$30.00
Tests/Experience
1 Day Clinic Levels
Introductory
Elementary
Beginner Novice
Novice
Training
Modified
Preliminary
Intermediate
Training Level Dressage
1st Level Dressage
2nd Level Dressage
3rd Level Dressage
4th Level Dressage
Administrative Information
Ride Time:

Ride Times will be emailed the week of the clinic.

Change Policy:

Changes are permitted before registration closes.

Refund Policy:

Refunds are permitted before registration closes.

Entry Option(s) Secure Spot: Pay in full via STRIDER