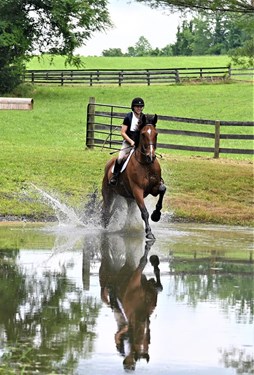 Elysian Hills Starter Horse Trial, Combined Test and Dressage

5/23/2021
Late entries allowed until 5/19/2021
Organizer:

Elysian Hills

triggerbabies@gmail.com

Elysian Hills Starter Horse Trials are the perfect venue for a green horse, green rider or rider/horse moving up to the next level. We provide a supportive, fun and safe environment for all levels. Our horse trials are run in a very relaxed atmosphere. Entries are limited to provide a more relaxed and flexible venue.
Dressage tests are held in a sand outdoor arena (warm up in an indoor arena). Stadium is held in a large stone dust arena. Our stadium courses include banks, ditches and changes in terrain (appropriate for each level). Cross Country is held on open, rolling fields which include a vast assortment of solid natural obstacles, banks, ditches and two water jumps.
We have added several new obstacles and combinations this Spring!!
Elysian Hills Starter Horse Trial entries are flexible. Participants may enter all three phases ($95), dressage and stadium only ($75), stadium and cross country only ($75) and dressage only ($35 per test).

We offer all jumping participants (stadium and cross country) a second trip around at No Additional Cost.
Levels offered:
Introductory 18"
Elementary 2'
Beginner Novice
Novice
Training
Dressage Tests;
Training Test A
Novice Test
Beg Novice Test A
Elementary USDF Intro test C
Introductory USDF Intro Test B
Please visit our website at www.elysianhills.com for photos of our cross country, stadium and dressage facilities. *** Please, no dogs at any time (in vehicles or on leash) permitted at Elysian Hills. ****
Photo curtesy Ms. Cindy White
Organizer Notes
No refunds. Cancellations received at least 24 hours prior to show will receive full refund to be used toward any Elysian Hills Starter Horse Trial or Jump Derby.
Horse Trail Training level (D,S,X)
$95.00
Horse Trial Novice level (D,S,X)
$95.00
Horse Trial Beginner Novice level (D,S,X)
$95.00
Horse Trial Elementary level (2' D,S,X)
$95.00
Horse Trial Introductory level (18" D,S,,X)
$95.00
Combined Test Training level (D,S)
$75.00
Combined Test Novice level (D,S)
$75.00
Combined Test Beginner Novice level (D,S)
$75.00
Combined Test Elementary level (D,S)
$75.00
Combined Test Introductory level (D,S)
$75.00
Dressage Test of Choice (note test in comments)
$35.00
Stadium and Cross Country Jumping only Training level
$75.00
Stadium and Cross Country Jumping only Novice level
$75.00
Stadium and Cross Country Jumping only Beginner Novice level
$75.00
Stadium and Cross Country Jumping only Elementary level
$75.00
Stadium and Cross Country Jumping only Introductory level
$75.00
Administrative Information
Ride Time: Ride times will be emailed three days prior to show. Rider email must be included in participant entry to receive ride times promptly.
Please note*** No dogs permitted at Elysian Hills at any time ***
Trailer Direction:

From Washington DC:

66 west to Marshall, route 647
at end or ramp turn left
immediately turn right onto Crest Hills Road (647)
continue 6 miles
turn left onto Wilson Road
continue 1/2 mile
turn right onto John Barton Payne Road
We are first drive on left
Change Policy:

Changes are permitted before registration closes.

Refund Policy:

No refunds.

Entry Option(s) Secure Spot: Pay in full via STRIDER