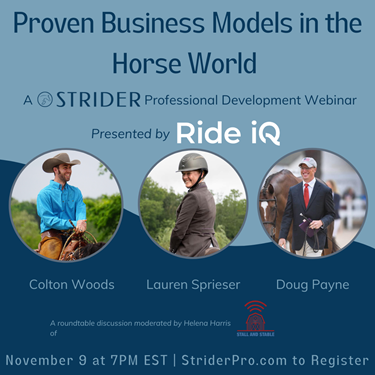 WEBINAR: Proven Business Models in the Horse World | 7 PM EST on 11/09

11/9/2021
Organizer:

STRIDER Support

support@striderpro.com

The STRIDER Professional Development Webinar Series continues with "Proven Business Models in the Horse World," a roundtable discussion presented by Ride iQ. Featuring top professionals from across the industry including Doug Payne, Lauren Sprieser, and Colton Woods, this panel will be moderated by Stall and Stable podcast host Helena Harris and will cover best practices for sustainable and profitable business in the horse world.
When: Tuesday, November 9 at 7:00pm EST
Where: On Zoom (click audit/ attend to sign up & receive the meeting link)
What: This FREE live discussion will cover various aspects of proven business models across the horse industry. Our expert panelists will speak to:
-their own business models
-automation tools for better efficiency
-best practices for anyone looking to set-up or scale-up their riding and training business
-answer your questions during the live q & a!
About the Panelists:
👤 Colton Woods is the founder of the CWH Professional Horseman's School which provides aspiring professionals with guidance and tools to create profitable horse businesses. Colton and his wife, Maredith, own and operate Colton Woods Horsemanship based in Lexington, Kentucky. They serve the their clients through their online educational opportunities, the Heart of Horsemanship Podcast, teaching clinics around the United States, training horses and teaching lessons. Visit https://www.coltonwoodshorsemanship.com for more
👤 Lauren Sprieser is a USDF Gold, Silver and Bronze Medalist and an international Grand Prix dressage competitor. Her enthusiasm and wit has made her a popular trainer, with students from the grassroots to the international levels in both dressage and eventing. She's also an acclaimed blogger for the Chronicle of the Horse, and writes regularly for Dressage Today and Practical Horseman who owns and operates Sprieser Sporthorse in Marshall, VA and Wellington, FL. Visit https://www.spriesersporthorse.com for more.
👤 Doug Payne us a CCI***** Eventer, FEI 4* & Grand Prix Show Jumper, and USDF Silver Medalist. A member of the 2020 Tokyo Olympic Team and 2019 Gold Medal Winning US Equestrian Team at the Pan American Games in Lima, Peru, Payne holds USEF Judge's & TD Licenses for Eventing and is a USEA ICP Level III certified instructor. He holds a Mechanical Engineering degree from Rochester Institute of Technology, and is also a graduate 'A' pony clubber from Somerset Hills Pony Club and author of the book "The Riding Horse Repair Manual". Visit http://www.pe3s.com for more.
Moderated by Helena Harris of Stall & Stable
👤 Helena Harris is the principal and founder of Sparkle and Boom Marketing & Communications, home of the popular Stall and Stable (https://www.stallandstable.com) podcast, of which she is the executive producer and host. She's been involved with horses for the better part of 25 years. As a marketing professional in the equine industry, Helena spent eight years with Bit of Britain, 10 with the Horse Radio Network (which she helped found in 2008), and provided marketing services for countless horse businesses throughout the United States.
"Proven Business Models in the Horse World" is presented by Ride iQ and is a continuation of STRIDER's Professional Development Webinar Series. For more details on Ride iQ, visit https://www.ride-iq.com or find it in the App store.
For upcoming Professional Development Webinars, visit: https://info.striderpro.com/striders-equine-business-professional-development-series-2021/


Organizer Notes
Administrative Information
Ride Time: This roundtable discussion will take place live via Zoom on 11/9/2021 at 7pm EST. Click to sign-up & receive the Zoom link.
Trailer Direction: N/A - this roundtable discussion will take place on Zoom. Click to sign-up & receive the Zoom link.
Change Policy:

Changes are not permitted.

Refund Policy:

No refunds.

Entry Option(s) Secure Spot: Pay in full via STRIDER