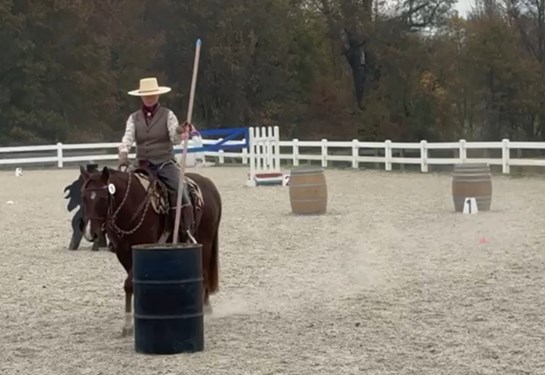 Working Equitation PlayDay!

11/26/2023
Late entries allowed until 11/26/2023
Organizer:

Holly Linz

keepstables@yahoo.com

9137105792
Interested in learning more about Working Equitation or getting some time to practice what you already know? Sign up for a Coached PlayDay on regulation obstacles with some experienced guidance at Oak Springs Equestrian facility!!
We want to be sure everyone fully understands the concept of a Coached Playday.
It differs from a traditional clinic in the sense that individuals in each groups have complete freedom to move about the obstacles as they see fit within the allotted time period. The coach is there simply to assist folks with any questions or issues that participants wish to get help with, or anything the coach sees they can assist a participant with. There is no predetermined outline for each session.
The purpose of a Playday is to allow folks new to the sport of Working Equitation to get a low investment introduction to the obstacles and see if they like it, and for seasoned WE riders an opportunity to practice and "play" with course work. This Coached Playday offers a mix of riders new to WE with some more experienced riders, so all can potentially learn from watching one another.
The BEST part of this sport is the endless learning opportunities!!
Will offer a NEWBIE session midday for folks with no or little prior experience with Working Eq.
This group will get a bit more information on each obstacles specifics, more like a group clinic format.
11-1230pm NEWBIE GROUP
2-4pm Mixed Group
Obstacles will be in the outdoor for this event.
In the event of inclement Weather we will move to the indoor, or reschedule, or issue full refund.
Please email with any questions, happy to help you get the most out of the experience!
Feel free to stop by and watch if you are interested in learning more!

Organizer Notes
If you have not signed a waiver in 2023, please print, sign and bring with you the attached waiver for the farm, must have one for 2023 on file in order to ride. Everyone must sign a new one signed for 2023, even if you have done one in the past.
Waivers will also be available in the indoor arena.
Once you pay for your spot, you own it.
If you cannot make it or find someone to fill your spot, let us know and we may be able to fill it.
Link to the facility waiver:
https://drive.google.com/file/d/1ZbZXlC2XPwFkHovFq7WUjIydeVChCCsU/
11-1230 Newbie Group
$65.00
Administrative Information
Ride Time:

Confirmation will be emailed a day or two prior to the event, sent to the email used for Strider sign up.

Trailer Direction: Take the drive into the farm all the way to the end, Indoor arena is on the right, plenty of parking! Please take hay and poop with you, bring water for your horses if needed.
Muck tub and fork provided in the indoor for cleaning up in the arena.
Fresh portapotty beside shop across from the indoor arena.
Please be sure to fill out a new waiver for 2023.
Change Policy:

Changes are permitted before registration closes.

Refund Policy:

Refunds are permitted before registration closes.

Entry Option(s) Secure Spot: Pay in full via STRIDER