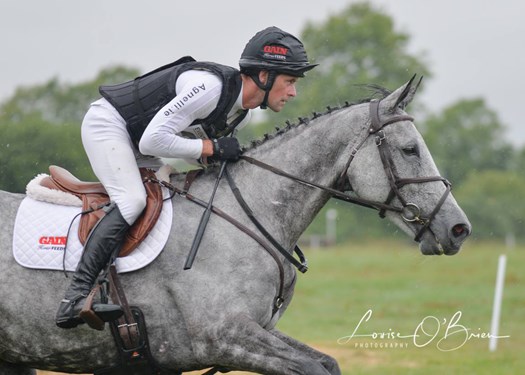 Cross Country Clinic with Irish Olympian Joseph Murphy

11/5/2018 − 11/7/2018
Organizer:

Jill Murphy

jmurphyeventing@btinternet.com

Irish Olympian Joseph Murphy is returning to the States to teach for three days, Nov. 5-7, at Boyd Martin's top facility Windurra USA in Cochranville, PA. Widely recognized as one of the best cross country riders in the world, Joseph is also an extremely effective teacher who specializes in building confidence in both horses and riders.
✅ Tune-up before heading to Ocala Jockey Club CCI
✅ Build confidence and tackle new questions
✅ Prep for moving up a level in early 2019
Horses and riders of ALL experience levels are welcome. Lessons are small group sessions and approximately 80 minutes long. Riders can choose to ride for one day, two days, or all three days.
To register, select the number of clinic days you would like and select the box for the Windurra facility fee. There is a $60 facility fee required for all riders. You can also reserve your spot with a $50 deposit now and pay in full at the clinic.
Private lessons with Joseph are also available. Email jmurphyeventing@btinternet.com to reserve. For those coming from out of town, email jkautry@gmail.com if you need help finding stabling.
Auditors are welcome for a $50 donation to the David Foster Injured Riders Fund, which is supporting Irish team rider Jonty Evans in his recovery from a traumatic brain injury. Donations can be made at www.davidfosterinjuredridersfund.ie
Organizer Notes
Jenni Autry will be on-site during the clinic and can be reached at 717-254-9630
1 Day Clinic
Instructor: Joseph Murphy
$125.00
Deposit to Hold Spot

$50.00
2 Day Clinic
Instructor: Joseph Murphy
$240.00
Deposit to Hold Spot

$50.00
3 Day Clinic
Instructor: Joseph Murphy
$360.00
Deposit to Hold Spot

$50.00
Show Ring/Day Facility Fee

$60.00
Tests/Experience
1 Day Clinic Levels
Beginner Novice
Novice
Training
Modified
Preliminary
Intermediate
Advanced
2 Day Clinic Levels
Beginner Novice
Novice
Training
Modified
Preliminary
Intermediate
Advanced
3 Day Clinic Levels
Beginner Novice
Novice
Training
Modified
Preliminary
Intermediate
Advanced
Administrative Information
Ride Time: http://bit.ly/JMEClinicTimes
Change Policy:

Changes are permitted before registration closes.

Refund Policy:

Refunds are permitted before registration closes.

Entry Option(s) Secure Spot: Pay in full via STRIDER Pay Deposit via STRIDER and the remainder by check