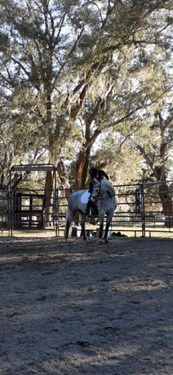 Understanding Positive Reinforcement Training with Chelsea Canedy

4/9/2022
Organizer:

Katie Liscovitz

kliscovitz@gmail.com

207 751-3439
Positive reinforcement training (clicker training) is gaining some recognition in the competitive sport horse world, especially as more riders begin to see the benefit of groundwork and how it can bridge the gap to the ridden work. R+ work is backed by neuroscientific research, which makes it even more intriguing as a tool to add to your training toolbox!
Come spend the day with Chelsea Canedy, learning about the science behind R+ training, and the basics of its practical application. The day will begin with a talk that everyone should attend, then a demonstration of the basic idea and techniques, and then we will work with horses individually for one short session each in the morning, and then one short session each again in the afternoon. There will be plenty of time for questions and answers, and participants should plan to attend for the entire day.
Organizer Notes
Payment is due at the time of registration.
No refunds after March 1st. If you register and cannot attend you are still responsible for the full fee. You may find a replacement, but will be charged at $25 change fee.
Administrative Information
Ride Time:

An email with details about the schedule will be emailed to participants one week prior to the clinic.

Change Policy:

Changes are not permitted.

Refund Policy:

No refunds.

Entry Option(s) Secure Spot: Pay in full via STRIDER