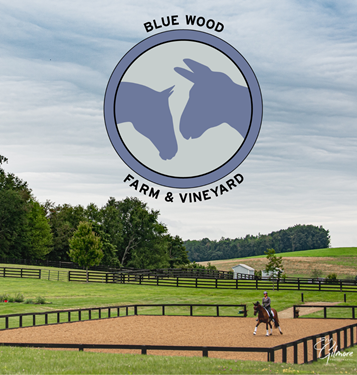 Blue Wood Farm & Vineyard Dressage Schooling Show

10/20/2022
Late entries allowed until 10/19/2022
eWaiver Link(s)

Organizer:

Natasha Sprengers-Levine

natasha@bluewoodfarm.com

Join Blue Wood Farm & Vineyard, LLC in Millbrook, NY for a dressage schooling show suitable for horses and riders of all levels. Come practice your USEF/USDF USEA, WDAA, or FEI dressage tests in a great atmosphere. We are so excited to be offering a Thursday AFTERNOON ONLY schooling show October 20! This show is generously sponsored by FootingFirst, HorseWorks Insurance, and Enviro Equine & Pet.
*Warmup will be on grass, all tests to be ridden on FootingFirst's TravelRight Footing in a 20x60 arena (https://www.footingfirst.com for more info)
*Classes split as entries warrant
*October 20 show will take place from approximately 12pm onwards
*Ribbons 1st-6th with 1st place prizes sponsored by Enviro Equine & Pet (https://enviroequine.com)
*High Point sponsored by HorseWorks Insurance (https://www.horseworksinsurance.com) & Reserve High Point for the day will be awarded
Our judge on Thursday, October 20 will be Krystal Wilt. Krystal is a USDF L Program Graduate with Distinction, USDF Silver & Bronze Medalist & is currently enrolled in the USEF r Judge Training Program. She joins us from Cherry Ridge Dressage (Glenville, NY). For more details, visit: https://www.cherryridgedressage.com/about
We are pleased to welcome Kirsten Edlund Photography for our October 8 & 20 show dates! Kirsten's photos will be available for competitors to purchase via her website https://kedlundphotography.zenfolio.com
ENTRY INSTRUCTIONS:
*All entries must select the $10 mandatory office fee as well as a test selection
*Entries will only be accepted via STRIDER, no paper entries nor check payments will be accepted
*Proof of negative Coggins and Flu/Rhino vaccination must be uploaded to STRIDER at the time of entry
*Follow the waiver link to sign our waiver DIGITALLY
*Riders will receive a confirmation email from STRIDER when entry is complete
*For more details on submitting payment with CC via STRIDER's PayPal payment gateway, visit: https://info.striderpro.com/guide-striderentryconfirmation/
*Any/ all other questions & special requests can be sent via email to natasha@bluewoodfarm.com
For more information on Blue Wood Farm & Vineyard, visit https://www.bluewoodfarm.com
**We look forward to hosting more shows starting spring 2023! Follow the link to sign up for our newsletter & receive calendar updates ➡️ https://mailchi.mp/c24d8464fcff/bwfvnews
Organizer Notes
This show has a no refund policy. Late entries will be accepted through 10/18 plus a $25 late fee. Negative coggins & proof of Flu/Rhino vaccination within 6 months must be uploaded to STRIDER at the time of entry.
If show is canceled at management's discretion (due to weather, etc.) we will issue refunds less $15 to cover processing costs.
We charge a late fee and office fee with respect for our team's time, the judge's time, and scheduling for other competitors, we like to send the ride times out well in advance of the show.
Water is available on grounds near trailer parking, there will not be food available for purchase but we will happily recommend local eateries :)
Late Fee

$25.00

Secretary/Office Fee

$10.00
Tests/Experience
Test #1 Tests
Rider Choice
USDF 2023 Intro - Test A
USDF 2023 Intro - Test B
USDF 2023 Intro - Test C
USDF 2023 Training Level Freestyle
USEF 2023 Training Level - Test 1
USEF 2023 Training Level - Test 2
USEF 2023 Training Level - Test 3
USEF 2023 First Level - Test 1
USEF 2023 First Level - Test 2
USEF 2023 First Level - Test 3
USDF 2023 First Level Freestyle
USEF 2023 Second Level - Test 1
USEF 2023 Second Level - Test 2
USEF 2023 Second Level - Test 3
USEF 2023 Third Level - Test 1
USEF 2023 Third Level - Test 2
USEF 2023 Third Level - Test 3
USEF 2023 Fourth Level - Test 1
USEF 2023 Fourth Level - Test 2
USEF 2023 Fourth Level - Test 3
FEI 2022 Prix St. Georges
FEI 2022 Intermediate I
FEI 2022 Intermediate II
FEI 2022 Grand Prix
FEI 2022 Grand Prix Special
FEI 2022 U25 Grand Prix
FEI 2022 Intermediate A
FEI 2022 Intermediate B
FEI 2022 Young Rider Test - Indiv
FEI 2022 Young Rider Test - Prelim
FEI 2022 Young Rider Test - Team
FEI 2022 Preliminary Test - 5 Year Old
FEI 2022 Preliminary Test - 6 Year Old
FEI 2022 Preliminary Test - 7 Year Old
FEI 2022 Junior Test - Indiv
FEI 2022 Junior Test - Prelim
FEI 2022 Junior Test - Team
FEI 2022 Pony Test - Indiv
FEI 2022 Pony Test - Team
FEI 2022 Pony Test - Prelim
USEF 2022 Starter
USEF 2022 BN- Test A
USEF 2022 BN- Test B
USEF 2022 Novice- Test A
USEF 2022 Novice- Test B
USEF 2022 Novice- Three-Day
USEF 2022 Training- Test A
USEF 2022 Training- Test B
USEF 2022 Training Three-Day
USEF 2022 Modified- Test A
USEF 2022 Modified- Test B
USEF 2022 Modified Test C
USEF 2022 Modified 3-Day
USEF 2022 Prelim- Test A
USEF 2022 Prelim- Test B
USEF 2022 Prelim Test C
USEF 2022 Prelim- Three-Day
USEF 2022 Interm- Test A
USEF 2022 Interm- Test B
USEF 2022 Adv- Test A
USEF 2022 Adv- Test B
CCI*
CCI** - Test A
CCI** - Test B
CCI*** - Test A
CCI*** - Test B
CCI**** - Test A
CCI**** - Test B
CCI***** Test A
CCI*****- Test B
WDAA Intro - Test 1
WDAA Intro - Test 2
WDAA Intro - Test 3
WDAA Intro - Test 4
WDAA Basic - Test 1
WDAA Basic - Test 2
WDAA Basic - Test 3
WDAA Basic - Test 4
WDAA Level 1 - Test 1
WDAA Level 1 - Test 2
WDAA Level 1 - Test 3
WDAA Level 1 - Test 4
WDAA Level 2 - Test 1
WDAA Level 2 - Test 2
WDAA Level 2 - Test 3
WDAA Level 2 - Test 4
WDAA Level 3 - Test 1
WDAA Level 3 - Test 2
WDAA Level 3 - Test 4
WDAA Level 4 - Test 1
WDAA Level 4 - Test 2
WDAA Level 4 - Test 3
WDAA Level 4 - Test 4
WDAA Level 5 Test 1
WDAA Level 5 Test 2
WDAA Level 5 Test 3
WDAA Level 5 Test 4
WDAA Freestyle - Intro
WDAA Freestyle - Basic
WDAA Freestyle - Level 1
WDAA Freestyle - Level 3
WDAA Freestyle - Level 4
WDAA Coached Test 1 Walk Only
WDAA Coached Test 1
WDAA Coached Test 2
WDAA Coached Test 3
WDAA Exceptional Rider Tests
Administrative Information
Ride Time: We will try to get ride times emailed out 48+ hours in advance to all participants.

Trailer Direction:

Please note that our driveway is narrow in some places. Parking will be on grass next to the competition arena. Please be mindful of signage and respectful of our property.

Change Policy:

Changes are not permitted.

Refund Policy:

No refunds.

Entry Option(s) Secure Spot: Pay in full via STRIDER