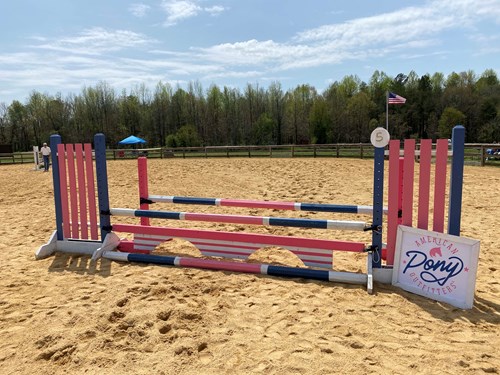 De La Brooke Pony Club Combined Test

10/24/2021
Organizer:

Asta Repenning

arrepenning@gmail.com

240-925-0461
The De La Brooke Pony Club annual combined test is on October 24th at Oakridge Park in Charles County, MD! Our arenas are always beautifully decorated and of competition quality. Sign up for the combined test includes entry into one division of combined test (Dressage test and show jumping round). You may enter additional SJ schooling rounds at your level or above but these rounds will not be judged. Dressage only- you can select any test to ride in a SMALL arena (eventing tests, USDF intro level or training level). Schedule will be e-mailed out week prior to competition so please provide working e-mail address. This event is a fundraiser for the pony club. Please submit a signed release form and coggins for complete entry.
Divisions:
12" (can be assisted), 2019 USDF Intro Test A
Intro- jumps to 18", 2019 USDF Intro Test B
Starter- jumps to 2', 2019 USDF Intro Test C
Elementary- jumps to 2'3", 2019 USEF BN Test A
BN- jumps to 2'7", 2018 USEF BN Test A
Novice- jumps to 2'11", 2018 USEF Novice Test A
Training- jumps to 3'3", 2018 USEF Training Test A
Organizer Notes
Refunds prior to closing date. No refunds after closing date as you will be assigned a ride time. Food and vendors on site. No farrier or vet on site. Please email, call or text organizer with any further questions.
Tests/Experience
Combined Test* Levels
Poles
Jumps to 18"
Jumps to 2'0"
INTRO
ELEM
BN/Jumps to 2'7"
N/Jumps to 2'11"
TRN/Jumps to 3'3"
Dressage Only Tests
Rider Choice
SJ Rounds Levels
Poles
2'0"
INTRO/Jumps to 18"
ELEM/Jumps to 2'3"
BN/Jumps to 2'7"
N/Jumps to 2'11"
TRN/Jumps to 3'3"
Administrative Information
Ride Time:

Ride times will be e-mailed by the Thursday prior to the event. Please provide an accurate, working e-mail address.

Trailer Direction:

Parking is on the immediate right as you enter the park.

Change Policy:

Changes are permitted before registration closes.

Refund Policy:

Refunds are permitted before registration closes.

Entry Option(s) Secure Spot: Pay in full via STRIDER Reserve Spot Via STRIDER, Mail Check