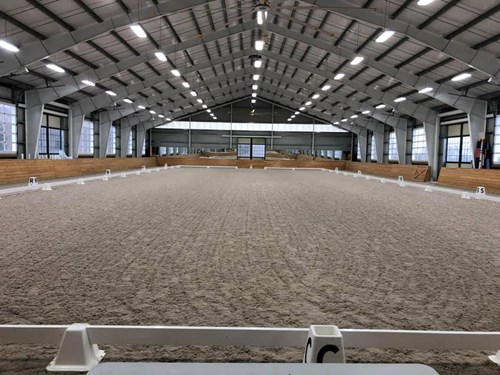 February Dressage Schooling Show @HighHorseFarm

2/13/2022
Organizer:

Isabel Martin

lookupequestrian@gmail.com

5403168744
Dressage Schooling Show.
All shows held in an indoor. Warmup and Tests have Attwood Footing. Heated viewing room.
USDF Intro-FEI and USEF Eventing tests are offered.
Judges:
January 16- Wanja Gerlach
February 13- Nancy Lowey
March 6- Carolyn "Dilly" Jackson.
If the Show is hosted, there will be no refunds/rollovers for no-shows.
** Please add the $20 office fee when registering **
​
Canceled Shows
If we have to cancel the show due to weather, entries will be refunded or rolled over to the March Show.
Organizer Notes
NO dogs allowed on property, you will be asked to leave if you bring a dog.
No refunds unless organizer cancels the show.
Warm-up ring is a few minutes from the Show arena so please plan accordingly, please be on time for your test.
Secretary/Office Fee

$20.00
Tests/Experience
Dressage Show Tests
CCI*
CCI** - Test A
CCI** - Test B
CCI*** - Test A
CCI*** - Test B
CCI**** - Test A
CCI**** - Test B
CCI***** Test A
CCI*****- Test B
FEI 2017 Preliminary Test - 5 Year Old
FEI 2017 Preliminary Test - 6 Year Old
FEI 2017 Preliminary Test - 7 Year Old
FEI 2018 Junior Test - Indiv
FEI 2018 Junior Test - Prelim
FEI 2018 Junior Test - Team
FEI 2018 Pony Test - Indiv
FEI 2018 Pony Test - Prelim
FEI 2018 Pony Test - Team
FEI 2018 Prix St. Georges
FEI 2018 U25 Grand Prix
FEI 2018 Young Rider Test - Indiv
FEI 2018 Young Rider Test - Prelim
FEI 2018 Young Rider Test - Team
FEI 2020 Grand Prix
FEI 2020 Grand Prix Special
FEI 2020 Intermediate A
FEI 2020 Intermediate B
FEI 2020 Intermediate I
FEI 2020 Intermediate II
Rider Choice
USDF 2019 First Level Freestyle
USDF 2019 Intro - Test A
USDF 2019 Intro - Test B
USDF 2019 Intro - Test C
USDF 2019 Second Level Freestyle
USDF 2019 Third Level Freestyle
USEF 2022 Adv- Test A
USEF 2022 Adv- Test B
USEF 2022 BN- Test A
USEF 2022 BN- Test B
USEF 2022 Interm- Test A
USEF 2022 Interm- Test B
USEF 2022 Modified- Test A
USEF 2022 Modified- Test B
USEF 2022 Novice- Test A
USEF 2022 Novice- Test B
USEF 2022 Novice- Three-Day
USEF 2022 Prelim- Test A
USEF 2022 Prelim- Test B
USEF 2022 Prelim- Three-Day
USEF 2022 Training- Test A
USEF 2022 Training- Test B
USEF 2022 Training Three-Day
USEF 2019 First Level - Test 1
USEF 2019 First Level - Test 2
USEF 2019 First Level - Test 3
USEF 2019 Fourth Level - Test 1
USEF 2019 Fourth Level - Test 2
USEF 2019 Fourth Level - Test 3
USEF 2019 Second Level - Test 1
USEF 2019 Second Level - Test 2
USEF 2019 Second Level - Test 3
USEF 2019 Third Level - Test 1
USEF 2019 Third Level - Test 2
USEF 2019 Third Level - Test 3
USEF 2019 Training- Test 1
USEF 2019 Training- Test 2
USEF 2019 Training- Test 3
Administrative Information
Ride Time:

Ride times will be emailed the Thursday before the show.

Trailer Direction:

High Horse Farm is located on Keyser Road, 1 mile on the right from the intersection of Crest Hill/Leeds Manor. GPS may take you further down Keyser Rd so please look for the Show signs and enter through the Barn Gates

Change Policy:

Changes are permitted before registration closes.

Refund Policy:

No refunds.

Entry Option(s) Secure Spot: Pay in full via STRIDER