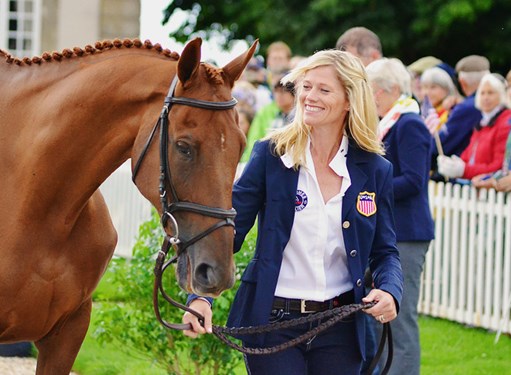 Sinead Halpin Eventing Clinic

10/17/2020 − 10/18/2020
Organizer:

Kristy Limon

excelequestrian@yahoo.com

281-617-2946

Sinead Halpin-Maynard is an international competitor and trainer and has been riding at the Advanced level since 1999. In 2011, Sinead earned and maintained her spot on world stage, proving to be a top competitor as well as a class ambassador of the sport by placing 3rd in her first CCI4* at the Rolex Kentucky Three-Day Event.
Sinead excels in the training of young horses and brings those with talent successfully through the levels. A true communicator, Sinead takes pride in developing relationships both with her horses and her students. She believes that patience and a solid foundation of basics are the keys to successes further down the line.
Sinead Halpin is a member of the United States Equestrian Team, riding competitively through the CCI4* level all over the world. Sinead was named to the United States Equestrian Team for the World Equestrian Games in Normandy, France in 2014 aboard Manoir de Carneville, the USEF 2012 Horse of Honor. Aboard "Tate", Sinead has had several top-ten results at the hardest events in the world, most notably finishing in 2nd place finish at the prestigious Burghley CCI4* in 2012.
From the green competitor to the serious adult or young rider, SHE brings years of experience and top-tier exposure to the training, competition, education, and overall betterment of horse and rider.
This 2 day clinic will be show jumping and XC. ALL schooling fees are included in the entry. Stabling is $85 for the weekend and INCLUDES 3 bags of shavings. Additional bags of shavings are available for $10/bag. Stalls MUST BE STRIPPED before leaving.
RV hookups are available for the weekend. Please contact D'Anne @ danne@texasrosehorsepark.com
Clinic Cancellation or Entries - $25 Fee
Organizer Notes
To be complete, you MUST send in your TX Rose Release form and Coggins!!
Clinic Cancelation or Entries - $25 Fee
Entry fee includes all facility schooling fees for the weekend.
Ride time will be emailed the week of the clinic.
NO REFUNDS unless your spot can be filled off the wait list.
2 Day Clinic
Instructor: Sinead Halpin
$375.00
Full Stabling

$85.00

Shavings

$10.00
Tests/Experience
2 Day Clinic Levels
Introductory
Beginner Novice
Novice
Training
Preliminary
Intermediate
Administrative Information
Ride Time:

Ride time will be emailed the week of the clinic.

Trailer Direction: From the East (Shreveport Area) take I-20 west to the Van/Tyler, Highway 110 exit (#548). Turn left/south. Go approximately 1 mile. The equestrian center is on the left.
From the West (Dallas Area) take I-20 east to the Van/Tyler exit, Highway 110 exit (#548). Turn right/south. Go approximately 1 mile. The equestrian center is on the left.
From the South (Houston area) take US 287 north to TX-155 towards Tyler. At FM- 2661 turn left. Left again at TX -64, right onto CR- 413, then left at FM -724. Follow FM-724 to CR-42 and turn right. At TX-110 turn left. The equestrian center is on the right.
From the South (San Antonio area) take I-35 north to US-84 and turn right. Follow US-84 to TX-31, turn right. At FM-314 turn left, right on to FM-279, left on to FM-314 then right onto CR-4906. At CR-4907 turn left to a right turn at CR-4908. (This road turns into CR-426) At CR-422 turn right, then right on to FM-1955 and left on to TX-110. The equestrian center is on the right.
Change Policy:

Changes are permitted before registration closes.

Refund Policy:

No refunds.

Entry Option(s) Secure Spot: Pay in full via STRIDER