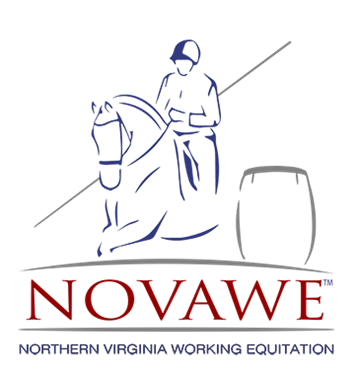 NOVAWE Working Equitation Schooling Show #3 - FPFP

11/6/2021
Organizer:

Biddie Lowry

novawe.blowry@gmail.co

8034872044
Working Equitation Schooling Show organized by Northern Virginia Working Equitation (NOVAWE)
All Dressage and EOH scores from NOVAWE Members will go towards NOVAWE Year End Awards.
Judge: Kimberley Hillyer (PA)
Divisions Offered:
Level 1 - Intro: Dressage and EOH
Level 2 - Novice A: Dressage, EOH, and Speed

Complete details are found in the Prize List. Please download and read.
All trials will be held in the Indoor Arena.
Warm up will be in a sand or blue stone outdoor arena.
Awards & Prizes: Ribbons 1st to 6th in each level and for each trial. Champion and Reserve Champion of each level will be awarded ribbons and prizes provided there are at least 2 competitors in that level.
Stabling is available for Saturday only or for Friday and Saturday. All stabling fees include a one time $15 stall cleaning fee. Competitors that stable on Friday night are free to hand walk your horse on the property. If you want to school in one of the outdoor arenas, you must pay FPFP a $15 day fee.

Organizer Notes
Upload current Coggins to this site or email a copy to Biddie Lowry.
Print, sign, and bring a hard copy of the required releases to the show.
If the level you are interested in is full, email Biddie Lowry for options. (novawe.blowry@gmail.com).
Competition follows USA Rules for Working Equitation (www.usawe.org).
Stabling Fee for Saturday only
$35.00
Stabling Fee for Friday & Saturday
$55.00
Administrative Information
Ride Time:

Ride times will be emailed to each competitor by Wednesday before the show. Times will also be posted on NOVAWE Facebook page.

Trailer Direction: Follow GPS to Frying Pan Farm Park Equestrian Center, not to the Visitor's Center.

Change Policy:

Changes are permitted before registration closes.

Refund Policy:

Refunds are permitted before registration closes.

Entry Option(s) Secure Spot: Pay in full via STRIDER