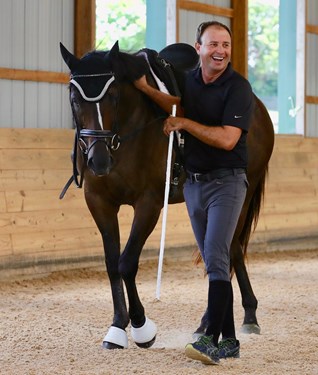 Claudio Oliveira Piaffe & Passage Clinic

8/7/2021 − 8/8/2021
eWaiver Link(s)

Organizer:

Lauren Sprieser

lauren@spriesersporthorse.com

5406612009
Claudio Oliveira specializes in training piaffe and passage both in hand and with the rider. He has extensive experience starting young horses and with advanced horses. In 2002, he was the Brazilian Champion. Claudio learned his craft in the style of Nuno Oliveira, who is widely acknowledged as a master of the art of dressage. Nuno's teachings have inspired riders and trainers all over the world to adopt the 'baroque' or 'classical' style of working with horses.
Claudio believes that horses can learn best when they have a mental understanding of what they are being asked to do. "It is really important to get the horse relaxed when they work" says Claudio. "The piaffe is an easy exercise when you achieve it without force."
Claudio works with top trainers and US and Canadian team riders to help start the piaffe and passage and to confirm these movements for the show ring, and travels the USA, Canada and Central America doing clinics. A patient and talented instructor, Claudio's students have achieved tremendous successes at the national and international levels. A cannot-miss event! Ride spots are full, but auditing is available, and includes lunch.
Organizer Notes
Auditing includes lunch; please let organizer know of any dietary restrictions. Social distancing will apply. Please include a copy of your COVID-19 vaccination card, or, if unvaccinated, plan on wearing a mask. Thank you for your understanding!
Administrative Information
Trailer Direction: Trailer-friendly directions available at http://spriesersporthorse.com/directions.
Change Policy:

Changes are not permitted.

Refund Policy:

No refunds.

Entry Option(s) Secure Spot: Pay in full via STRIDER