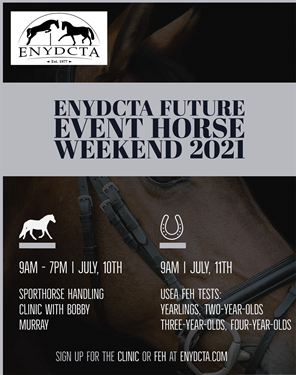 ENYDCTA Future Event Horse Weekend

7/10/2021 − 7/11/2021
Organizer:

Carmen Fagnani

Cmfagnani18@gmail.com

518-231-2368
ENYDCTA Future Event Horse Weekend
Clinic - $150 | Clinic + FEH - $235 | FEH - $110
Sign up for the clinic, FEH, or both. There is a $25 discount for horses attending both the clinic and an FEH.
This is a great opportunity to get your young horses out in a low stress environment for their first show experience. Each hour long clinic spot is limited to 3 horses. The clinic is open to horses of all ages, breeds, and disciplines. This is one of only a few FEHs held in Area 1.
More information available at:
https://www.enydcta.com/USEA-Future-Event-Horse
Contact us for private clinic spots.
Please create a separate registration for each horse attending the clinic or FEH.
If you are attending the FEH please fill out the USEA Entry Form and release (there is an upload spot in the registration). A release must be signed by all handlers and assistant handles. Releases can be uploaded or mailed to ENYDCTA c/o Carmen Fagnani 491 Sunnyside Rd Schoharie, NY 12157.
Organizer Notes
Handlers and assistant handlers must be 16 years old as of January 1 of the current year.
A handler or groom may only hold one horse at any given time during the competition in or near the competition areas.
No dogs allowed on competition grounds.
Sport Horse Handling Clinic Only
$150.00
FEH Yearling Only
$110.00
FEH 2 Year Old Only
$110.00
FEH 3 Year Old Only
$110.00
FEH 4 Year Old Only
$110.00
Clinic + FEH Yearling
$235.00
Clinic + FEH 2 Year Old
$235.00
Clinic + FEH 3 Year Old
$235.00
Clinic + FEH 4 Year Old
$235.00
Overnight Stall

$50.00

ENYDCTA Non-member Fee

$25.00
Administrative Information
Ride Time: Clinic times located at https://www.enydcta.com/event-4229144

Trailer Direction: Competition Address: 114 Woodward Rd Nassau, NY 12123
Stabling Entrance: 115 Bunker Hill Rd Nassau, NY 12123Directions at: https://www.larkinhill.com/directions-contact
Change Policy:

Changes are permitted before registration closes.

Refund Policy:

No refunds.

Entry Option(s) Secure Spot: Pay in full via STRIDER