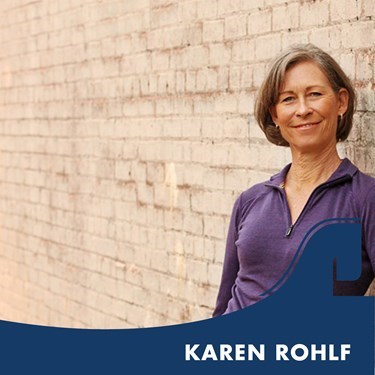 EQUITANA USA: All About Contact with Karen Rohlf

10/2/2021
Organizer:

Nicole Forbes

nicole.forbes@rxglobal.com

Karen Rohlf of Dressage Naturally will teach an All About Contact Clinic at EQUITANA USA on October 2, 2021 at the Kentucky Horse Park.
EQUITANA USA has partnered with STRIDER, the leading equestrian booking platform, to accept applications & payment for this clinic. You must apply to ride on STRIDER NLT Sept 10th to be considered for this event- visit: https://bit.ly/applyequitana
Learn to stop 'putting your horse on the bit' and start building a positive connection.
Learn how to avoid and solve problems in the contact by looking at the whole horse and rider dynamic.
Learn the purpose of the reins and how to create the posture you are looking for without forcing a frame.
To apply to ride in this clinic via STRIDER, visit: https://bit.ly/applyequitana
ABOUT KAREN ROHLF:
Karen Rohlf of Dressage Naturally helps equestrians of every level and discipline achieve stronger partnerships and healthy movement with their horses. Karen Rohlf founded DN in 2004. Karen has been a leader in her industry by combining principles of partnership-based training with the art of dressage. A primary focus of DN is to empower students to become independent problem-solvers through transformative learning experiences and access to supportive, non-judgmental community.
ABOUT EQUITANA USA:
EQUITANA USA is the premier North American forum that promotes the exchange of ideas, information, and experiences to enhance the horse and the equine industry; all while providing a high-quality event for those with a passion for horses.
The live event (October 1-3, 2021) features education, entertainment, and a trade fair featuring riding equipment and apparel, horse care supplies, gifts, and more products and services.
Throughout the year, equestrians can also experience shopping, education, and entertainment digitally through the EQUITANA USA 365 hub.
🎟 To purchase general admission tickets for your guest, visit: https://equitanausa21.com/Strider-Pro
Organizer Notes
Please attach your horse's negative coggins and proof of vaccination within 6 months along with your entry.
1 Day Clinic
Instructor: Karen Rohlf
$50.00
Administrative Information
Ride Time:

This clinic will take place on October 2, 2021 from 3:00pm-3:45pm in the Pegasus Arena at Kentucky Horse Park.

Change Policy:

Changes are not permitted.

Refund Policy:

No refunds.

Entry Option(s) Secure Spot: Pay in full via STRIDER