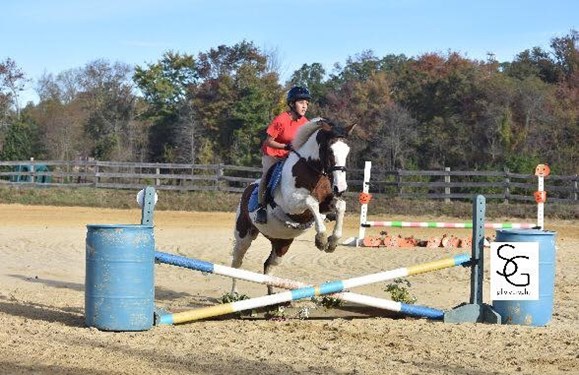 Combined Test at Appleton Equestrian

10/18/2020
Organizer:

Juli Hutchings-Sebring

julihutchings@gmail.com

4103981466
Join us for our fall Combined Test Sunday Oct 11 and Sunday October 18
Other sponsors/prizes will be donated from CWD, Aunt Angie's Treats, and more to be announced.
Elementary-preliminary levels offered (higher upon request). Prizes for each division winner.
Elementary will feature also a WT dressage test and poles only course this year.
Add extra SJ rounds or extra dressage tests.
Just dressage, $30, Just Jumping $30. $25 for any additional round or test.
Jumps are very colorful, by JUMPS WEST, one of our sponsors, and include roll top, liver pool, gate, coop, and other colorful fillers.
On the 18th show, ride in a costume in both phases for a special prize!
Horse treats donated by Aunt Angi's Horse Treats and prizes for each division winner as well!
Organizer Notes
Combined Test*
$70.00
Extra Dressage Test

$25.00

Extra SJ Round

$25.00
Secretary/Office Fee

$5.00

Haul-in Fee

$5.00
Tests/Experience
Combined Test* Levels
INTRO
ELEM
BN/Jumps to 2'7"
N/Jumps to 2'11"
TRN/Jumps to 3'3"
Combined Test* Tests
USDF 2019 Intro - Test A
USDF 2019 Intro - Test C
USEF 2018 BN- Test A
USEF 2018 Novice- Test A
USEF 2018 Training- Test A
Administrative Information
Ride Time:

Will be posted and/or emailed or texted

Trailer Direction:

Park in our lot by the arenas

Change Policy:

Changes are not permitted.

Refund Policy:

No refunds.

Entry Option(s) Secure Spot: Pay in full via STRIDER