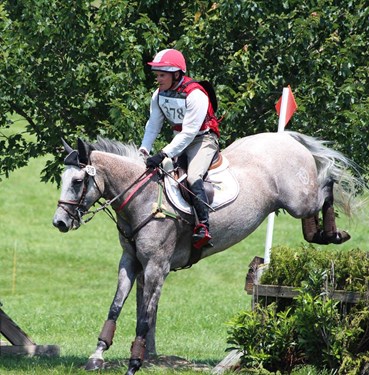 Expert Day w/ Olympian & Burghley winner Stephen Bradley!

9/27/2022
eWaiver Link(s)

Organizer:

Liz Schoeder

lizskips520@gmail.com

Join us at Waredaca for another outstanding jump clinic with Olympian & 4* Eventer Stephen Bradley!
Riders may choose to focus on either Show Jumping or Cross Country (weather permitting.) Please specify your preference in Note to Organizer.
Stephen will be at Waredaca approximately monthly to deliver outstanding instruction. (all Tuesdays)
12 April | 10 May | 14 June | 12 July | 23 August | 27 September | 25 October
Trailer ins: Please pay $26.00 Haul-In Fee via STRIDER
Waredaca Boarders: Please pay $13 Facility fee via STRIDER
Stephen Bradley is a veteran US Equestrian Team member who brings decades of experience to his students. His list of accomplishments include winning the Burghley CCI*** (only one of two Americans to ever do so), winning Canada's Checkmate International CCI3* an unprecedented three times in a row, two-time Pan American Games Gold medalist, and member of the US Olympic team.
Stephen's well-regarded ability to coach riders and horses from beginners through the Advanced level of eventing makes him a hit with all ages. His enthusiasm, talent for communication, and ability to inspire confidence makes him a popular clinician.
Student Accolades about Stephen Bradley clinics:
"My lesson with Stephen was so amazing!"
" He was incredibly positive, patient, and encouraging."
"The instruction was excellent and I felt improvement in myself and the horse. Thanks!"
Organizer Notes
Expert Day Coordinator for ALL the Experts is Liz Schoeder: lizskips520@gmail.com
• All paperwork (reg form and waiver-only ONE per YEAR required) and fees MUST be completed in advance. Attach signed Expert Day release to your STRIDER registration!
• Proceed to the Indoor Arena area to meet your group and Expert a few minutes before your scheduled start time.
• Stephen's schedule runs from early afternoon through early evening. Small groups up to 6 will be scheduled; lesson time will be adjusted for group size.
CANCELLATION POLICY: The clinic fee is non-refundable. You are purchasing a time slot which is paid for in advance. If you are unable to use this space, you are responsible for finding another rider to fill it. A waiting list will be maintained for unforeseen circumstances, but there is no guarantee.
WHAT ELSE:
• For Cross Country sessions, protective vests and medical arm band required.
• Dress appropriately and comfortably.
• We have a soda machine. No food available for purchase.
• Auditors FREE and are always welcome to come watch, assist the Experts with jump crew and embrace all the information being shared. Simply come and go as your day allows. There is NO shuttle or vehicle permitted on course so plan to wear comfortable walking shoes :)
Waredaca is a full service equestrian facility located in the Laytonsville area of northern Montgomery County, Maryland (outside of Washington, DC). It features excellent outdoor jumps arenas, a spacious indoor arena, and a well regarded cross country course. Winter clinics will likely be in the indoor.
1 Day Clinic
Instructor: Stephen Bradley (ICP IV)
$100.00
Haul-in Fee

$26.00

Show Ring/Day Facility Fee

$13.00

Change fee

$25.00
Tests/Experience
1 Day Clinic Levels
Elementary
Beginner Novice
Novice
Training
Modified
Preliminary
Intermediate
Poles-18"
2'3"
2'6"
2'9"
3'0"
3'6"
3'9"
Administrative Information
Ride Time:

Ride times will be emailed to you prior to clinic.

Trailer Direction:

Please use our WEST ENTRANCE GPS: 4017 Damascus Road Laytonsville MD 20882; if heading west from the Sunshine intersection of 97/Damascus Rd you'll drive past the corner parking field and Waredaca Main Entrance and turn into our West Entrance just before the sharp bend in the road. Continue thru the automatic gate, then turn left and park in the gravel area when the road widens.

Change Policy:

Changes are permitted up to 7 day(s) before registration closes.

Refund Policy:

No refunds.

Entry Option(s) Secure Spot: Pay in full via STRIDER