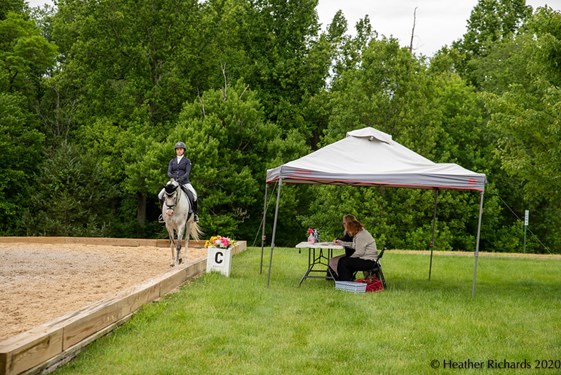 Four Loko Schooling Show: Corona Lite IV

9/20/2020
Organizer:

Lauren Sprieser

lauren@spriesersporthorse.com

Come to a dressage socially distanced schooling show at Sprieser Sporthorse! Rides available from Intro to Grand Prix. Take advantage of our stunning facility and gear up for whatever this wacky show season will throw at us. Our judge is Dilly Jackson.
This will be a different sort of show, so PLEASE, read and understand the rules:
- this will not be scheduled like a traditional show where we hold Class A, and then Class B, and then class C. Instead, we'll be scheduling the show by trailer group. So if you and your friend Sally are trailering together, we'll put your tests relatively close together in time, even if you're riding dramatically different levels. This will keep the number of people on the property simultaneously down to a manageable and healthy number.
- There will be no bathrooms. No food service. No entering the barn. No spectators. Limited family and coaches, who must register with us via email before the event; no exceptions. There will be NO RIBBONS OR PRIZES. Tests will be emailed back to you. There will also be no bridle numbers, so tell the judge who you are when you come to ride your test.
- USEF equipment rules apply. Dress to show or dress nicely, up to you.
- We do not have a space for lunging, so if you're worried your horse is going to need some time to settle in, we're offering $10 off a lesson with any of our trainers the week of the show. Please, do not plan on coming crazy early before your ride.
- EVERYONE will wear a mask unless mounted. EVERYONE will respect social distancing, and refrain from touching surfaces unnecessarily. If you can't behave in a safe way, we will kick you off the property and keep your money. If you don't like it, don't come.
- No incomplete entries will be accepted. An entry is complete when it includes a signed liability waiver, a coggins, and THE TRAILER GROUP THE RIDER IS A PART OF, INCLUDING SPECIFYING IF THE RIDER IS COMING ALONE. This is how we're going to schedule the show, and is therefore crucial. We will not be accepting paper payment or any paper documents day-of. No refunds will be accepted UNLESS the rider experiences COVID-like symptoms or is exposed to someone with COVID-like symptoms between July 5 and the show, in which case a full refund will be issued.
- Parking will be in the field to your left as you pull in the driveway, and there are two spigots for water, which will be sanitized often throughout the day. Parking is limited and will require some creativity, so please keep an eye out for our parking attendant.
- The show will be held in our outdoor. Warmup will be in our indoor.
- If you are experiencing COVID-like symptoms, or if you're exposed to someone with COVID-like symptoms between July 5 and the show, DO NOT COME. We ask our riders to take their temperature the morning of the show, and if it is abnormal, DO NOT COME.
A new rule from our first show: only coaches are allowed in the indoor arena warmup; no grooms, owners or family.
Organizer Notes
PLEASE indicate your trailer group on your entry. If you're riding a "Rider Choice" test, please tell me which one. We are not set up for Eventing tests or Freestyles.
Tests/Experience
Dressage Show Tests
Rider Choice
2019 USDF Intro Test A
2019 USDF Intro Test B
2019 USDF Intro Test C
2019 USEF Training Level Test 1
2019 USEF Training Level Test 2
2019 USEF Training Level Test 3
2019 USEF First Level Test 1
2019 USEF First Level Test 2
2019 USEF First Level Test 3
2019 USEF Second Level Test 1
2019 USEF Second Level Test 2
2019 USEF Second Level Test 3
2019 USEF Third Level Test 1
2019 USEF Third Level Test 2
2019 USEF Third Level Test 3
2019 USEF Fourth Level Test 1
2019 USEF Fourth Level Test 2
2019 USEF Fourth Level Test 3
USEF Grand Prix/Grand Prix Special
Administrative Information
Ride Time:

Ride times will be emailed and made available on our Facebook page.

Trailer Direction: Use your trip odometer to follow these directions! Street signs are not always obvious. These directions are trailer friendly (you can use Google or a GPS if traveling by car).From I-66
Take the VA-55 E exit- EXIT 27- toward VA-647 / MARSHALL
At top of exit, turn left and go back across the Interstate if you've come from the East; if you've come from the West, turn right. Take the first RIGHT turn, which is VA-647, CREST HILL ROAD.
Follow CREST HILL ROAD approximately 5 miles.
Turn LEFT onto WILSON RD and go approximately 2 miles.
Turn RIGHT onto CONDE RD and go 1.3 miles.
Turn LEFT onto OLINGER RD.
SPRIESER SPORTHORSE will be down the road 0.8 miles on your right – 6782 OLINGER ROAD.From Warrenton
Take FROST AVENUE west (away from town) and turn RIGHT on VAN ROIJEN, which is about 0.3 miles from the intersection of Frost and 17/29.
Go 0.1 miles and turn LEFT on OLD WATERLOO RD (VA-678).
Follow OLD WATERLOO (do NOT turn onto Lower Waterloo), – which curves right to become WILSON RD – for 9.1 miles, and turn left onto CONDE ROAD (VA-764).
Follow CONDE 1.3 miles and turn LEFT onto OLINGER ROAD.
SPRIESER SPORTHORSE will be down the road 0.8 miles on your right – 6782 OLINGER ROADFrom Culpeper
Take VA-229 / RIXEYVILLE RD to LEE HWY / US-211 E – turn RIGHT (EAST)
After 1.5 miles, turn LEFT onto LEEDS MANOR RD and then RIGHT onto OLD WATERLOO RD.
Follow OLD WATERLOO RD 2 miles to WILSON RD – turn LEFT onto WILSON RD
Follow WILSON RD 5 miles to CONDE RD – turn left onto CONDE RD and go 1.3 miles.
Turn LEFT onto OLINGER RD.
SPRIESER SPORTHORSE will be down the road 0.8 miles on your right – 6782 OLINGER ROAD
Change Policy:

Changes are not permitted.

Refund Policy:

No refunds.

Entry Option(s) Secure Spot: Pay in full via STRIDER